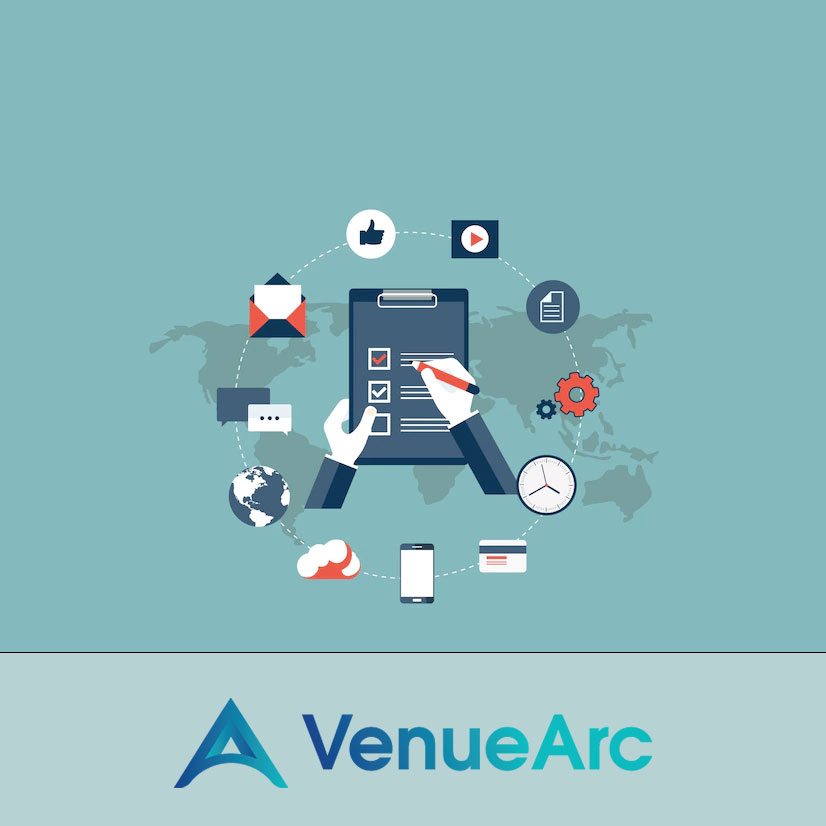 According to Event MB 2020, nearly 73.6% of event planners have improved their tech skills due to pandemic-related experiences. To respond to consumer demand and promote the industry's growth, event professionals still need to best utilize current and new technology. Today, cloud, Virtual Reality (VR), and custom SaaS products are progressively replacing traditional gatherings. To succeed in this market, one must be competitive and be to outperform their rival following and staying up to date with the current market trends and advanced technology to help grow ones business.
Among all these technologies, SaaS (Software-as-a-Service) is one of the leading technologies evolving how event professionals manage events.
SaaS products are drastically changing the paradigm of live events organizations, including theatres, arenas, museums, art galleries, convention centers, corporate venues, and many other live events centers.
Let us explain how!
First, let's understand what a SaaS product is.
What Are SaaS Technology And SaaS Product?
Software as a Service is a subscription-based software licensing and delivery model, meaning the software is centrally managed and hosted in the cloud. One of the main advantages is that businesses can buy as much software as they require; for example, if they only have one end user, they can buy one license. Small and medium venues that are prepared to go from making reservations on a spreadsheet or their Microsoft Outlook calendar to a specialized booking platform for events can notably benefit from this. Users can be added anytime an organization expands, and functionality can be added as requirements change. The days of purchasing an entire software package to use a single piece are over.
So, a SaaS product is an internet-based software hosted and managed in the cloud. There is no need to download or install any tools because it is entirely covered on the cloud.
The Significant Factors Impacting The SaaS Adoption In The Event Management Industry
Some of the factors expediting the acquisition of SaaS-based business solutions are highlighted below:
SaaS-based business solutions are essential to compete in the world of technology. They assist you in standing out from your competitors and growing exponentially.
Due to the large number of users who prefer online applications daily, SaaS-based products tend to generate more revenue.
Customer expectations are rising due to the market's fierce competition. SaaS-based applications play an essential role in customer retention by providing more than one interface.
Customers have increased their demand for the flexibility and usability of applications, which online applications can only provide.
The device storage issue necessitates using SaaS-based solutions where data can be stored indefinitely.
Numerous event management businesses now count on consolidated event and client data for all areas, including sales and marketing, event management, operations, accounting, and finance.
SaaS-based applications are more reliable because they are protected by rigorous security mechanisms that prevent unauthorized access.
Digitization is gaining traction in industries that can benefit from SaaS applications to solve problems.
SaaS evolution is a massive movement that occurred in the digital space. It has influenced nearly every industrial sector and offers comprehensive solutions to make life easier. Furthermore, the trend of AI-based apps employs strong underlying AI and machine learning algorithms that strategize technical applications to meet customers' needs.
SaaS-based applications collect massive amounts of data, allowing learning AI and machine learning models to be more reliable and paving the way for major high-end applications that can solve multiple genuine problems in the digital realm.
Streamline the event planning and execution with an advanced event management system like VenueArc, providing comprehensive tools and features to ensure a seamless and successful live event experience
How Have SaaS Products Improved Event Management? More Significantly, How Can You Capitalize On Cloud Or SaaS As An Event Manager?
The cloud is a broad term; at its core, cloud computing comprises three key technologies: infrastructure as a service, software as a service, and platform as a service. The second is the only one genuinely relevant to the event industry; SaaS (Software as a Service) is essentially "on-demand software" that is centrally hosted and licensed to users on an as-needed basis. Anyone who uses the software gains functionality and the ability to set up their software quickly and easily on new devices.
For a live events industry expert, the agility with which software can be deployed utilizing a cloud architecture means that a full events team can access the same information in real-time. This facilitates collaboration more than ever before and enables communication between partners and volunteers that was nearly impossible before the cloud.
SaaS Products Offer Event Professional More Than Just Collaboration
Most SaaS event management platforms also provide the user with a plethora of powerful tools for thoroughly analyzing every aspect of their event. The power is in visualization; an event manager can see all of the different aspects of their event and how they relate to one another. The team can determine the best seating arrangements, maximize budgeting as attendance numbers fluctuate, monitor guest satisfaction, and track marketing efforts as a campaign progresses.
Visualization Trends With SaaS
Last but not least – and this is related to visualization – SaaS enables organizations to leverage big data. Everything from employee behavior to customer browsing habits can be analyzed for patterns and commonalities, allowing a company to better tailor its strategy to its surroundings. For an event management company, this means creating more personalized events for both attendees and clients.
SaaS is a game-changer in technology. Almost every industry, including the events industry, has embraced cloud computing. As an event management professional, you must understand the benefits of the cloud and its usage. If you don't, your competitors will, and they will be better as a spin-off.
Top 5 Trends That Witness The Worth Of Cloud And SaaS Products
SaaS end-user spending worldwide was 171.9 billion USD in 2015-2022.
Source, Statista
The software as a service (SaaS) market is predicted to reach 195 billion U.S. dollars by 2023. Source, Statista
According to a 2021 Information Services Group (ISG) poll, 46% of businesses are utilizing HR SaaS solutions, up 20% from two years prior (Business Wire, 2021). By 2023, over 57% of enterprises will reportedly be utilizing hybrid or cloud-based SaaS, according to the same study.
"The shift to mobile, emphasis on complete experiences over transactions, and in-venue cloud-based systems rather than terminal-driven access are some key trends that will shape the events industry." Neetu Bhatia, Founder and CEO of Kyazoonga, A Global Online Ticketing Agency
According to IDG Communications, Inc., 89% of businesses use Software as a Service (SaaS) in some capacity in their IT environment, making it the most popular cloud service model across all sizes of businesses.
Looking For A SaaS Product To Manage Your Live Events Effortlessly? 
Well, you don't need to search for a SaaS-based product for your live events anywhere else because we present you with VenueArc, an innovative SaaS event management software developed and hosted on the pioneering platform of Microsoft Azure. Discover the ultimate event management solution with VenueArc, a cloud-based SaaS platform that revolutionizes the way you plan, organize, and execute live events, offering unmatched flexibility and efficiency
Sign up for your preferable account and start using VenueArc today without any tedious and costly software installation.