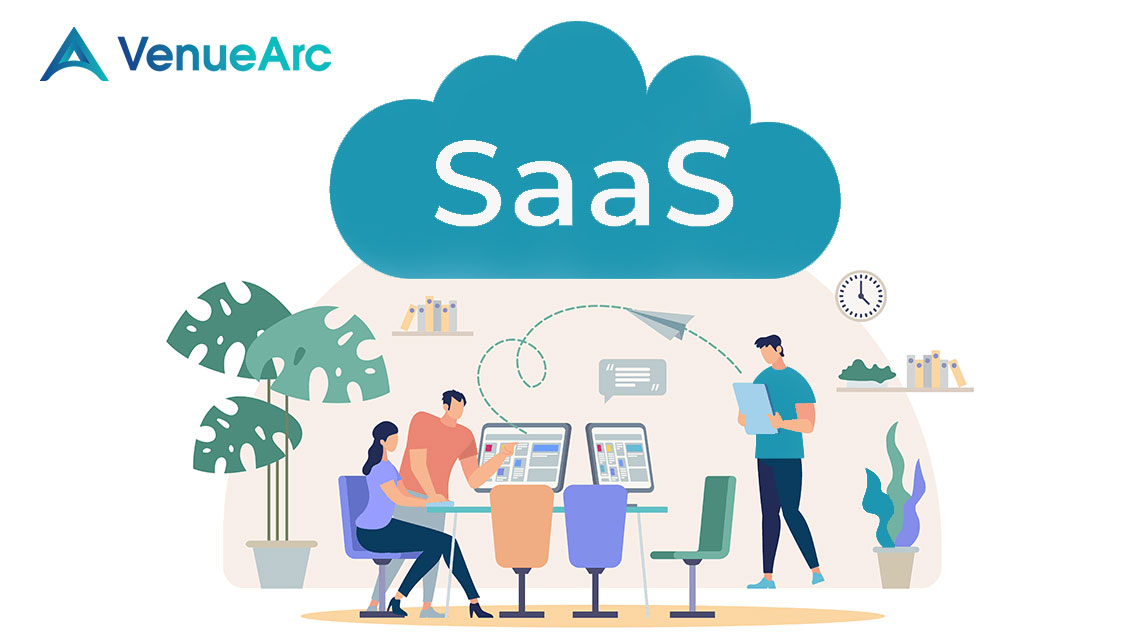 "The server has crashed. Hacking. Data corruption. Fines for noncompliance. These are just a few of the nightmares that your IT department works hard to avoid. The never-ending race to stay ahead of the latest security, compliance, and continuity measures is a time-consuming and resource-intensive endeavor that can overburden your organization. The VenueArc Azure SaaS technology significantly reduces your organization's assumed risks while increasing internal staff capacity."
It's an exciting time to be in the software development and delivery business. The introduction of Software as a Service (SaaS) allows companies to provide benefits to customers such as the ability to buy as much or as little Software as needed, easier onboarding, which increases software adoption rates, lower infrastructure and IT costs, and access to valuable data at any time and from any location.
Software as a Service (SaaS) is a Software licensing and delivery model based on subscriptions in which the Software is centrally hosted in the cloud. One of the significant advantages is that organizations can buy as much Software as they need – for example, if they only have one end-user, they can buy one license.
VenueArc, An Enterprise App Based on The Leading SaaS Platform of Microsoft Azure
Many performing arts venues and event management companies, such as theatres, arenas, and auditoriums, rely heavily on centralized event and client data. Marketing and sales data, event operations and financial management data, reporting and analytics data, contract generation, theatre performance management, event document management, and event settlement data are all examples of information collected from various departments. All of this adds up to a massive amount of data that is difficult to manage without a centralized solution.
This where VenueArc, an event booking, and management platform built on Azure SaaS technology plays a huge role.
In response to recent developments, the VenueArc team has been developing innovative solutions to give its performing arts customers the flexibility they need to book and manage venue events. This is the result of our commitment to the industry, which drives us to keep seeking and explore new ways to better serve our clients in the live event industry.
Since its launch a few years ago as an easy-to-use tool for event and venue booking and management , VenueArc has been making an impact in the live event sector. VenueArc can assist venues such as performing arts centers, auditoriums, arenas, stadiums, and museums in a variety of ways, including event booking, venue management, contract creation, and other facets of venue and event operations management.
Everything Is In The Cloud
Customers always have access to the most recent version because the software is hosted by the software vendor and can be upgraded whenever a new version becomes available. Customers who require training can attend live webinars in which they use real-life examples to populate fields in the program. This significantly reduces onsite training travel costs and increases adoption rates because users can continue working in the software after each training session while the data is still fresh in their minds. Many organizations provide training webinars that are shared by users from various organizations who have similar needs. This provides software users with a group of peers with whom they can later connect to share tips learned while working with the software.
Minimize Infrastructure Expenses
One of the most appealing features of Software as a Service is the ability to cut IT assistance costs by outsourcing hardware and software service and maintenance to the SaaS provider. Unlike customers of self-hosted software, SaaS customers never have to delay accepting an upgrade because it will necessitate an additional investment in hardware, such as more powerful servers, and the money for supplies is not in the budget. Furthermore, the software company provides maintenance for the software, which is managed by platform experts.
Why More Enterprises Are Considering Azure Enterprise Applications?
Flexibility is a primary reason why many businesses migrate to the Azure SaaS platform. Because SaaS product services can expand on demand, you can reduce business risk while increasing flexibility to meet variable user requirement. Azure makes it simple for businesses to scale automatically—in or out, up, or down—to fulfil workload demands. This gives you the freedom to increase or decrease server capacity as well as emerging hardware or software resources. Autoscaling is available in Azure for IaaS, PaaS, and virtual machines (VM).
Serving The Live Events Industry With Greatest Azure Cloud Support
In today's interconnected world, event professionals must have access to client information wherever and whenever they need it – whether in the office, on the show floor, or working remotely. Having instant access to a complete customer profile from any Internet connection, especially in the area of customer relationship management (CRM), offers the advantage of providing accurate information instantly, significantly increasing the chances of customer satisfaction. This flexibility is provided by Software as a Service by Microsoft Azure, allowing organizations to be more agile than ever before.
As a professional SaaS provider with many years of experience in the software industry, VenueArc firmly believes that the shift to Software as a Service will enable a higher level of productivity and profitability.