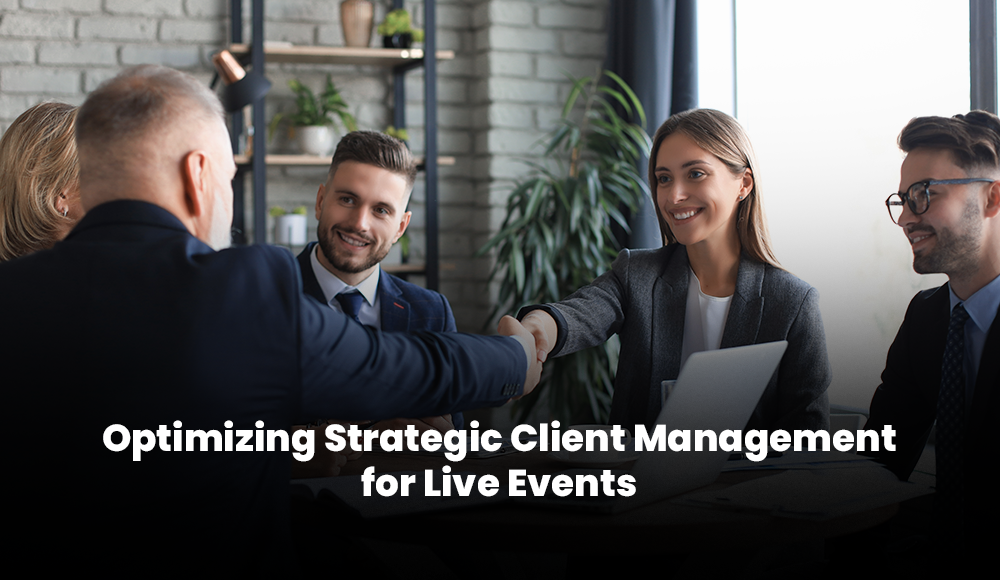 Explore the art of exemplary client management software in the thrilling world of live events! Let's delve into the key strategies and innovative solutions that can elevate your live events to new heights and leave a lasting impact on your clients. Whether you're organizing concerts, conferences, or theater productions, strategic client management is the key to unclosing success and building lasting relationships with your audience.
Understanding the Power of Client Management Software
Client management goes beyond just maintaining a contact list. It's about fostering meaningful connections with your clients, understanding their needs, and delivering resonating personalized experiences. The innovative client management system for live events platform is designed to help you streamline interactions, optimize service delivery, and, ultimately, leave a lasting impression on your clients.
Improving Client Interactions
Communication is at the heart of successful client management. With our platform, you can effortlessly track and manage client interactions, ensuring that every touchpoint is memorable and tailored to their preferences. From initial inquiries to post-event follow-ups, our solution empowers you to stay organized, responsive, and proactive in catering to your clients' needs.
Personalizing the Experience
One size doesn't fit all, especially regarding live events. Our Strategic Client Management software allows you to create personalized experiences that resonate with each client. From seat preferences to event recommendations, our innovative solution ensures that every interaction feels tailor-made, enhancing client satisfaction and loyalty.
Maximizing Event Success
In the fast-paced world of live events, success depends on seamless execution and exceptional client experiences. With our platform, you can monitor event performance, track attendee feedback, and identify areas for improvement in real-time. Armed with data-driven insights, you can make informed decisions, optimize your event strategy, and deliver unforgettable experiences every time.
Embracing Innovation
Stay ahead of the curve and embrace the power of innovation with our Strategic Client Management platform. From task automation to data analytics, our solution empowers you to work smarter, not harder. By embracing technology and data-driven decision-making, you can confidently and precisely navigate the dynamic live events landscape.
The Key Features Of A Client Management Software
The CMS offers a comprehensive contact management solution that allows performing arts centers to maintain detailed records of their clients. It includes patrons, ticket buyers, donors, sponsors, performers, and other stakeholders. The system captures essential contact details, communication preferences, and historical interactions, enabling staff to provide personalized service and engage with clients more effectively.
Ticketing and Reservation
One of the central functions of the CMS is ticketing and reservation management. The system offers a user-friendly online ticketing platform allowing patrons to purchase tickets easily from their homes or mobile devices. It also provides real-time seat availability updates, ensuring clients can make informed decisions while planning their attendance. Moreover, the CMS facilitates efficient reservation handling for group bookings and special events.
Event Planning and Scheduling
The CMS streamlines performing arts centers' event planning and scheduling processes. Event managers can use the system to create detailed event schedules, including performances, rehearsals, workshops, and educational programs. The system helps avoid scheduling conflicts and ensures smooth coordination among various departments and stakeholders involved in event execution.
Marketing and Communication
The CMS is a powerful marketing and communication tool for performing arts centers. It supports email marketing campaigns, newsletters, and promotional materials, enabling organizations to reach their target audience effectively. The system allows for segmenting the audience based on preferences and interests, ensuring that clients receive relevant and engaging content that drives ticket sales and event attendance.
Reporting and Analytics
With built-in reporting and analytics features, the CMS empowers performing arts centers to gain valuable insights into their operations and performance. Organizations can track ticket sales, attendance trends, revenue generation, and donor contributions, among other metrics. These data-driven insights aid in making informed decisions, identifying areas for improvement, and optimizing strategies to maximize overall success.
Box Office Management
The CMS simplifies box office operations, providing a user-friendly interface for staff handling ticket sales, refunds, exchanges, and on-site inquiries efficiently. It ensures a seamless ticketing experience for patrons, contributing to customer satisfaction and loyalty.
Volunteer Management
The CMS offers dedicated volunteer management tools for performing arts centers that rely on volunteers. It enables organizations to manage volunteer schedules, assign tasks, and communicate with volunteers effectively. The system ensures smooth coordination and appreciation of volunteers' valuable organizational contributions.
Accessibility and Inclusivity
The CMS may include features that support accessibility and inclusivity, such as accommodating special needs patrons, providing language options for multilingual audiences, and promoting diverse programming. Ensuring accessibility allows performing arts centers to cater to a broader audience and foster a sense of inclusivity within the community.
Security and Privacy
Client Management Software places the highest priority on data security and privacy compliance. We understand the importance of safeguarding sensitive information and protecting it from potential threats or breaches. Employ state-of-the-art security measures, including encryption protocols and access controls, to fortify the confidentiality and integrity of client data.
By implementing these rigorous security measures, we protect your valuable information and instill trust and confidence in your clients, donors, and other key stakeholders. With the assurance of robust data security, you can focus on building stronger relationships with your clients and stakeholders, knowing that their information is in safe hands.
Streamlining Client Relationship Management with VenueArc
Optimizing strategic client relationship management (CRM) for live events is a game-changer in today's competitive landscape. By prioritizing meaningful client interactions, personalizing experiences, and leveraging innovative solutions, you can create unforgettable events that leave a lasting impact on your audience.
Strengthen your client relationship management (CRM) and streamline your live events management with VenueArc, a centralized client management system designed specifically for the performing arts industry. Say goodbye to the days of managing files in cabinets and rushing to meetings with piles of documents. VenueArc automates handling massive client data and transforms bulky chunks of files into easily accessible digital documents. With VenueArc, busy performing arts managers like you can now enjoy a more organized and efficient workflow, leaving you with more time to focus on creating memorable live experiences for your audience.