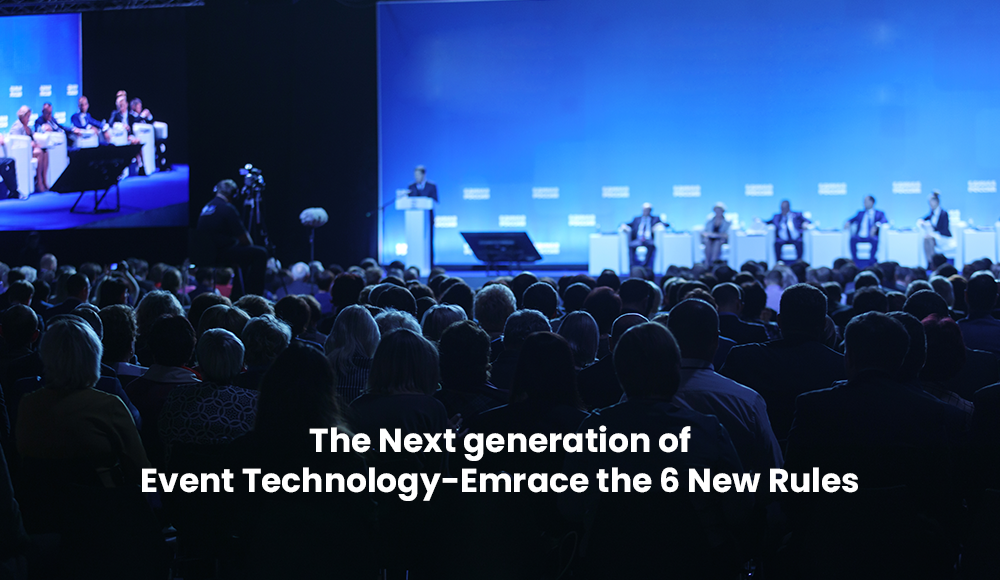 The landscape of event technology is rapidly evolving, ushering in the second era of innovation, rewriting event management rules. Over the past few years, many new technologies have emerged, revolutionizing how event professionals handle data and plan events. Unlike the previous era, this new wave of event tech emphasizes simplicity, ease of use, and online accessibility. These changes reshape the industry and empower event organizers to deliver exceptional experiences.
Rule #1: Simplicity and Easy-of-Use is In 
Event tech is now embracing simplicity, shedding the complexity of the past. Intuitive user interfaces and shorter learning curves ensure seamless adoption by all team members, maximizing efficiency and productivity. Gone are the days of reading manuals or relying on IT departments; the focus is on providing user-friendly apps that deliver immediate benefits.
Rule #2: (Almost) Everything is Online Traditional 
Web-based applications are replacing PC-based software. The shift to online solutions brings automatic software updates, easy data backups, and no more installation or maintenance hassles. While internet connectivity is essential, data security advantages and frequent updates outweigh the potential drawbacks.
Rule #3: Data and Software Access Across All Devices Mobile technology has significantly expanded data access capabilities. Smartphones and tablets now serve as powerful computers, allowing event professionals to access data anywhere. Adopting native app versions and mobile web browser options ensures seamless access and functionality on handheld devices.
Rule #4: Consolidation of Tools/Features (More All-in-One Applications) 
The trend towards consolidation continues, with all-in-one applications becoming more popular. Having all the necessary tools and data in one place offers convenience and cost-effectiveness. While some specialized tools may have additional features, the benefits of streamlined data management outweigh the drawbacks.
Rule #5: Embracing Leading-Edge Technologies (AI, AR, VR)
The future of event technology holds exciting possibilities, such as integrating cutting-edge technologies like Artificial Intelligence (AI), Augmented Reality (AR), and Virtual Reality (VR). AI-driven data analysis will provide valuable insights, AR and VR will offer immersive experiences, and event management will become more data-driven and personalized.
Rule #6: Seamless Integration with Third-Party Platforms 
event technology is evolving to integrate various third-party platforms seamlessly, enabling event organizers to leverage a broader range of tools and resources. From social media platforms for enhanced marketing strategies to ticketing systems for streamlined attendee registration, this integration empowers event professionals to create comprehensive event experiences effortlessly. Adopting this new rule allows organizers to harness the power of diverse technologies, further enhancing event planning and execution.
Role Of VenueArc In Executing These Rules With Its Next-Gen Feature Set.
Efficient event management is key to a venue's success in the dynamic world of mesmerizing live events. Introducing an ingenious solution – a cloud-based, automated event management software – revolutionizes how venues handle bookings and operations. Join us as we delve into the exceptional features of this technology, shaping the future of event management.
Complex Venue Booking Made Easy 
Effortlessly handle venue bookings with an intuitive and feature-rich calendar. Whether you need to add, modify, or search for events, this innovative tool simplifies the process, ensuring your venue is always well-booked and maximizing your revenue potential.
Customizable Event Portal
Create a visually stunning event portal that reflects your venue's unique branding. Engage your audience with interactive event listings, detailed event information, and easy registration processes, creating a memorable user experience.
Real-Time Ticketing System
Seamlessly manage ticket sales with a real-time ticketing system. Gain insights into ticket availability, sales data, and attendee demographics, allowing you to optimize your marketing efforts and increase ticket revenue.
Dynamic Floor Plans
Visualize your venue's seating arrangements with dynamic floor plans. Enable attendees to select their preferred seats, providing a personalized experience while optimizing venue capacity.
Integrated Event Marketing
Reach a wider audience with integrated event marketing features. Utilize social media promotion, email campaigns, and targeted advertisements to boost event visibility and ticket sales.
Comprehensive Client Management Portal 
Keep your clients at the center of your business. The software offers a client management portal where you can access contract information, deposit schedules, financial details, event documents, and more, all in one place. Foster strong client relationships with personalized services, increasing client satisfaction and repeat business.
Enterprise-Level Collaboration and Accessibility 
Enable smooth communication and collaboration across departments with easy access to all event-related details. With this tool, your team can work seamlessly to create unforgettable experiences, enhancing operational efficiency and teamwork.
Organized Performance Notes for Every Event 
Say goodbye to scattered sticky notes and diaries. With this technology, effortlessly organize and maintain event notes and add separate notes for each performance. Stay on top of every detail and ensure flawless execution, leaving a lasting impression on your attendees.
Embrace the future of event management with this innovative technology, revolutionizing how venues handle their bookings and operations. With many ingenious features, personalized services, and seamless collaboration, this event management software paves the way for a more efficient, engaging, and successful event industry. Embrace the power of technology and take your venue to new heights in the world of events.
Reshaping The Event Management Future With VenueArc 
In a nutshell, the event management landscape is transforming, driven by innovative event technology solutions. Embracing simplicity, online accessibility, and mobile capabilities, while also adopting all-in-one applications will empower event professionals to stay ahead in the dynamic world of events. By embracing the new rules of event technology solutions, organizers can deliver unforgettable experiences and optimize their event planning processes for the future.
Explore our features page or schedule a demo today to learn how VenueArc can revolutionize your venue and event management experience.