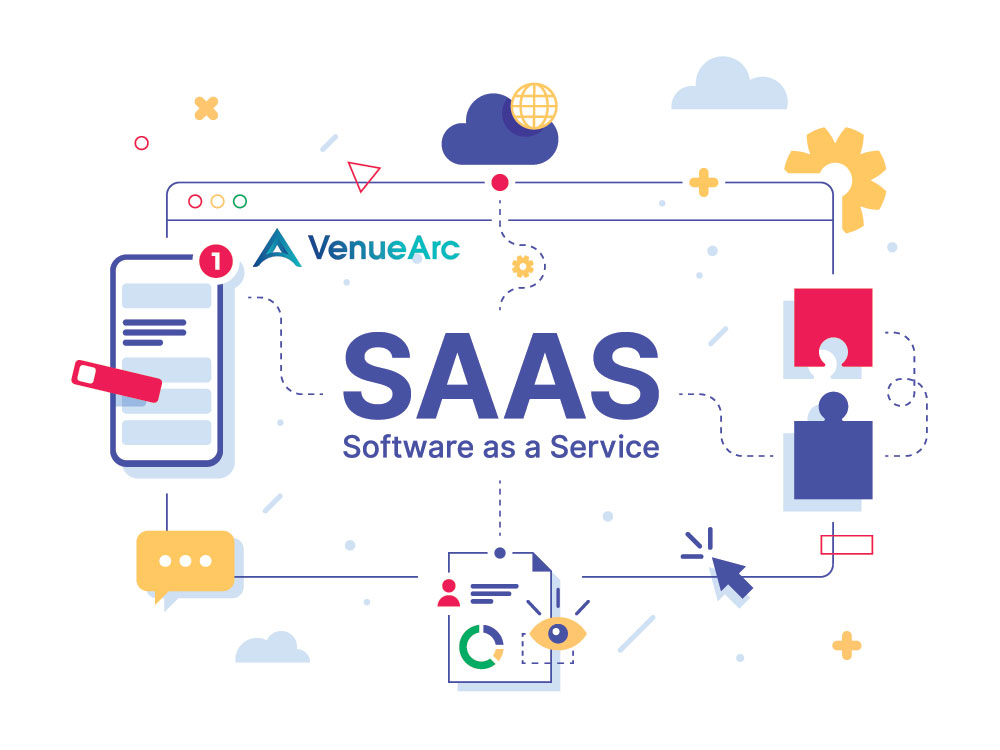 SaaS technology is drastically conquering the technology globe, with approximately 94 percent of global enterprises utilizing cloud services to manage their workloads, daily working activities, and overall workflows. SaaS technologies have been critical in pivoting business operations to respond to global challenges, and they will be critical as we return to normal productivity levels. We have seen incredibly innovative solutions in almost every business industry.
Just as other innovative technologies, SaaS solutions are increasingly being used by businesses to store and manage data, and the event industry is also not behind. Just as in other industries, the performing arts venue and event management industry can also get unlimited benefits by employing SaaS-based venue and event management software in their performing arts operations.
Many performing arts venue and event management organizations which include theaters, arenas, and auditoriums depend hugely on the centralized event and client data. This data can be of various departments, which include marketing and sales, event operations and financial management, reporting and analytics, contract generation, theater performance management, events document management, and event settlement. All together it becomes a very humongous amount of data that is not easy to manage without a centralized solution.
Do You Feel that Venue and Event Management Tool is not An Easy Job? 
All the folks in the performing arts industry can relate that venue and event management is a very challenging job. Even when organizing a small event, you must organize dozens of things and complete various sets of tasks. You must gather everyone in one place, delegate tasks to your team members, and communicate with clients including promoters and events sometimes with artists as well.
Also, you have to collaborate with your own employees to maintain the flow of operations and management. Ensuring that every aspect of the event, from catering to seating arrangements, is taken care of, gets very complicated and the event hard to manage. That's where you are in dire need of a solution and they help to keep track of changes, allocate resources, and solve last-minute problems, which are every event manager's nightmare.
But how?
We have the answer!
It is simple – by using an Event Management tool, built on a SaaS Platform. 
Using a SaaS-based solution has numerous advantages. We've compiled a list of the top seven advantages of using Software as a Service (SaaS) for your venue be it theaters, arenas, auditoriums, or other performing arts venues:
Freedom of Location
You don't have to rely on a computer or any other device if you use SaaS-based venue and event management system. You can use any device that is connected to the Internet to access the software. As a result, an event management system developed on a SaaS platform, simplifies interactions with employees, suppliers, and clients, no matter wherever in the world you are.
For instance, your event managers and operations teams are constantly on the move and rarely sit at their desks. With a SaaS-based solution, they can access the system at any time and from any location. They will always stay ahead of their tasks, even if they are onsite or offsite, with up-to-date data incorporated on the go.
Online Venue Booking and Payments
As many events and venues require you to register and accept payment, the need to book venues and events online becomes very critical. This is one aspect where SaaS technology can make a significant difference. At a physical location, you can use devices linked to the software to register users and complete all registration processes – the data is automatically synchronized with the software. When you use event management software, you can also take, track, and manage online payments, making automatic online registration a breeze. It can also help you store user data and send notifications and reminders related to the events and venues.
Furthermore, venue and event management system provide the facility to book consecutive and non-consecutive events so that you can be safe from the blunder of booking two or more events on the same date.
Higher Productivity
Conventional event management software can only assist you in managing a few procedures related to the event from the venues. However, with a SaaS-based event management system, you can have the advantages of managing your venues from any device including laptops, mobile, and tablets, collaborating with your teammates, manage documents of your events, all on a centralized SaaS platform.
You can track events on the spot, strategize your event online while sharing ideas with the client or supplier, keep a single online diary with all event-related notes taken by your staff, export your data to various programs and devices, and perform a slew of other essential tasks at any time and from any location. Not only you, but every member of your team can profit from the SaaS-based event management system.
Furthermore, by automating the data stream between your systems, all of your employees will have quick and easy access to current and reliable information. As a result, you can completely eradicate delays caused by employees wasting valuable time trying to find current information, resulting in increased productivity. It also promotes effective team communication and collaboration because all employees have access to the same data and can strive to achieve your set of business targets/goals.
Cost Savings
When you use SaaS-based event software, you not only gain more efficiency but also save money. Cloud computing has traditionally been known for its ability to reduce the cost of software, maintenance, and electricity bills. When you use cloud-based software, you save money on infrastructure and can invest it in your business.
While event management can be a labor-intensive job at times, the better you maintain your assets, the more earnings you can make. SaaS-based event management tools can help you move your event and venue management process online and automate every aspect of your work. This results in less time and effort, which also helps save money. Thus, your profits start getting improved.
Common Task Management
Aside from providing all of the benefits associated with the SaaS technology, event management software will also simplify all of the daily operations associated with event and venue management. This type of software will include resources for simple events, multi-day events, conferences, exhibitions, and festivals. It can serve as a ticketing system, assist with theater and arena reservations, map out travel plans, manage presenters and sponsors, and allow users to complete most tasks online. Most of the time-consuming and labor-intensive tasks will be transformed into simple, automated processes as a result of this.
Relying on your employees to manually copy data entry throughout multiple systems comes at a high cost to your company. Conversely, you can save time and money by incorporating the systems used throughout your company so that data flows automatically and flawlessly between applications, allowing your employees to start investing their time and energy into more productive tasks that will ensure your company's success.
Data Is Safe, Protected, And Secure
The pace of innovation is intensifying: Critical business teams are being required to work with extraordinary flexibility while maintaining a high level of security. SaaS is the only solution that can match this level of adaptability. However, the transition can charge your resources and interrupt your daily routine.
You don't have to go it alone with the structure of SaaS-based applications and credible data security solutions. With this software, the transition to SaaS can be seamless, secure, and cost-effective at every stage.
Business Stability 
We work in a flexible, agile, and increasingly spontaneous environment in today's world. When running a business, we must be prepared for anything in order to avoid downtime due to unforeseen events.
To ensure business continuity, many venues and event organizations have reconsidered their internal processes and moved away from their legacy on-premises systems in response to the recent pandemic that has significantly affected our global economy.
You can have complete peace of mind by using SaaS-based event management solutions, which include excellent security frameworks that ensure your business continuity is in fantastic health. At the same time, you have the flexibility to work from a variety of locations, such as home, co-working spaces, or substitute offices with ease of accessibility via an internet connection.
Wrapping Up 
Do you own a performing arts center that deals with event booking and venue management? Are you an event manager in a large auditorium or arena? Do you feel as if you're being buried under a flood of event management tasks? If you answered yes to any of these questions, you should look into different event management software that uses SaaS technology and see if it can make your life easier.
With VenueArc – say goodbye to event management challenges with our innovative and customizable event management solution.