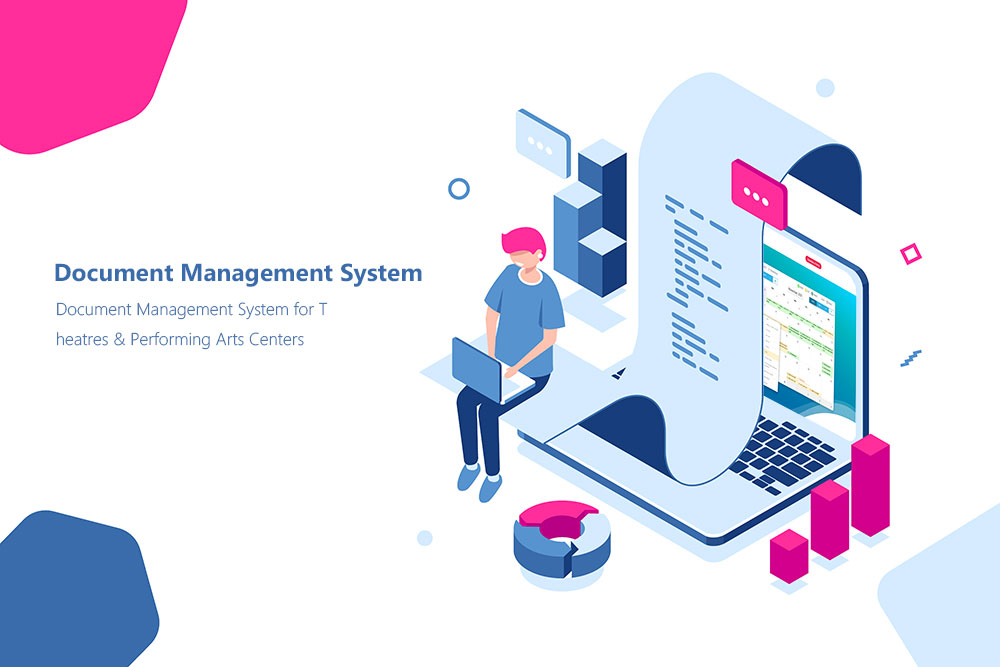 Art, music, and cultural organizations operate on a strict budget and rely on the payments from clients, organizers, sponsors, and event promoters. Hiring, scheduling, and tracking promoters, clients and organizers is an important part of the successful operation of performing arts centers, ranging from community theaters and museums to auditoriums and even festival events. Theater and other performing arts venue managers must deal with a wide range of important and delicate documents every day. Be it information or settlement records of artists, pile of event contracts, regulatory policies, bunch of management reports, ticketing documents, employee contact information, performance notes, and so on. This is literally something really huge. And if not handled smartly then it can cause amateur effect on overall theater performance! This leads them to use a centralized system that completely manages all their event and venue management documents and operations.
Also, if busy managers aren't equipped with the right software that supports unlimited document management, theater operations and the management of client can take hours and hours out of their days.
You must be thinking that how can venue managers manage this huge number of documents and operations at the same time?
We have the best answer! "By using an all-in-one event booking software that has the features of managing events and venues as well.
VenueArc, An Event Booking Software to Manage All Your Venues and Events Documents
The all—in—one software for event booking and management of theatres, performing arts organizations, music organizations, and other venues has earned the trust of managers and program directors. Why so? Because it has proved to be the best solution for storing, tracking, and managing as many documents as venue managers require.
This software has several features that are intended to track and manage volunteers who work in cultural organizations. The theater and performing arts database management software can help civic and community theatres, orchestras and symphonies, fine arts, music and dance festivals, and others manage their operations and client information and many important tasks.
Let's make you stunned with the incredible benefits and solutions it can provide!
Makes you more productive
Dealing with paperwork, especially paper paperwork, is likely to be the most time-consuming task you'll ever face. Everything takes time, from writing the paper to revising it, shifting it to a different format, and sharing it (and a lot of nerves). Instead of dealing with papers, you could have invested your time and energy in more productive activities.
Technological advancement has a million ways to save your valuable time to use it to develop more productivity. Start by replacing your manual content and document management system with a digital document management solution that generates paper records into electronic documents, for example. Editing, converting, and exchanging electronic documents takes far less time because these are procedures that can be completed with a few clicks, saving you both time and energy. As a result, you will be able to use your time and effort more effective in bringing more constructive things to the table.
There will be no more forgotten deadlines, tracking down documents, or figuring out what is left to do in the event management process with VenueArc's online document's destination for true collaboration with your employees and event organizers.
Improve your customers' event booking experience and satisfaction by allowing them to manage event management tasks, view/edit documents, review and pay invoices, view registered members, and order event-related items such as AV equipment, furniture, and catering. All of this experience by using your truly VenueArc event booking software for comprehensive event and venue management.
Unique platform for unique performing arts challenges
The performing arts industry operates with a unique model that is distinctive from other industries, and that model brings with it a different set of issues. As a theatre owner, you must manage numerous important documents, such as budgeting reports, event details documents, performance notes, event contracts, and so on. There is frequently a great need to share these documents with clients who are currently abroad or with your offshore marketing team.
For example, if you want to share the same document with multiple users simultaneously, an intelligent Intranet Portal for managing document is a fantastic solution. Simply upload the file and generate a link to share with your team. Depending on the parameters you provide, everyone who gets the software will be able to view or edit the document. This way, you and your crew members can use an online document management system without sharing it manually. You can sync all of your event management data to a single platform and make it available to anybody you want.
Saves you from malicious hackers
Document security and governance is critical in today's digital world, — particularly if you have all your documents in digital format. Your official documents are likely to contain delicate business or customer information that must be kept secure and confidential. Because there is so much competition in the performing arts industry in the United States, your confidential documents are more likely to be stolen. It is critical to remember that malicious hackers do not solely target large corporations. They often target small businesses as well. Paper records are also at danger of being stolen, destroyed, or simply lost. Consider how much data you would lose in a headquarters unfortunate event. So, how can you be sure your documents are secure?
An electronic document management system can help you keep your records safe from hackers and other potential threats. Electronic files can be protected in a variety of ways. For example, by using documents security software, security tools, and antivirus software. Furthermore, electronic document copies can be stored in the cloud, ensuring that they are never completely lost, regardless of what happens to the originals. Security and control features in secure and user-friendly venue management software are there to help you entirely.
Prevents you from document errors and manual editing
Being a theatre or venue manager, you cannot afford even the slightest spelling or grammatical error in your documentation. These materials will be accessible and read by directors, marketing specialists, and even clients. Grammar and spelling mistakes in official documents are a clear sign of incompetence and can harm your theater's reputation. As a result, you must ensure that all documents under your control are properly edited before delivering them to supervisors, promoters, clients, or other business associates.
On the other hand, proofreading and editing can take a long time. While managing the sequential events, it is common to overlook many of the errors in the content.
It is best to convert as many hard copy documents as possible to electronic versions when it comes to editing and correcting. If your documents are digital, you can edit them quickly and easily. Editing software will scan your text and identify all spelling, grammar, and style errors, assisting you in correcting them in minutes. Different editing apps, such as Grammarly and Hemmingway, can be integrated into your online document management system.
Allows you to transform the documents into various formats
Have you ever been in the need to transform a document from one format to another certainly because one of your clients asked a different format than the one you were using? At first glance, it appears to be extremely difficult. Documents should be used to increase rather than decrease productivity.
Document challenges that cause you to take a complete pause daily. Important but time-consuming reports that take far longer than your lunch break to complete. Handwritten notes that are difficult to read and do not communicate clearly are a problem. Files in an unreadable format or written in an unreadable language. You own sensitive information that you cannot afford to reveal inadvertently.
These day-to-day difficulties slow you down, robbing you of valuable time and interfering with your ability to focus on what is most important to you.
Using an online document management solution, you can convert electronic documents from one format to another in minutes. You can, for example, easily convert word documents, excel spreadsheets, and PowerPoint presentations to PDF files. You can convert multiple copies of your original file to various formats with a single click. If one of your clients requests a different format version of the documents, it will not be a problem.
It offers you a policy management repository that is centralized
The storage of your policy manual and policy management system in a central document storage system will assist you in resolving the problems mentioned above, as well as a few others. The central repository acts as a central authoritative source. If the policy is found in a major policy manual and is the most accurate policy model. There's no question about whether this is the most recent version, if someone else has the most recent version, or if someone is still working on the previous year's policy. You'll also have quick access to all of the policy documents in one place, as well as easy search options. There's no need to flip through a paper binder and an online directory or sift through email messages to find the one policy that applies to your specific situation.
With an online policy management solution, you can be certain that you are only using the most recent version of each policy. There will be no issues with maintaining version control because everyone will only have access to the most recent version of the policy.
These aspects can aid in the protection of your business. For instance, version histories can demonstrate that your organization was not at fault if there were legal issues. If, for example, your company did not have a written policy in place in relation to a specific incident, you could demonstrate that you do not simply have a policy in place. You can, however, show the date it went into effect and demonstrate that everyone is aware of it.
Documents are accessible. Anytime. Anyplace.
Make, save, and organize. With VenueArc, all of your documents are stored in a single location where anyone with the necessary security can access and use them. There will be no more chaos of stacking thousands of documents and manually categorizing them for each department. If one of your clients requires a specific contract or other event-related document, it is only a click away.
You can access any document in your system at any time and from any location by using its Cloud services. With all of the information at your fingertips, you can stay productive no matter where you are.