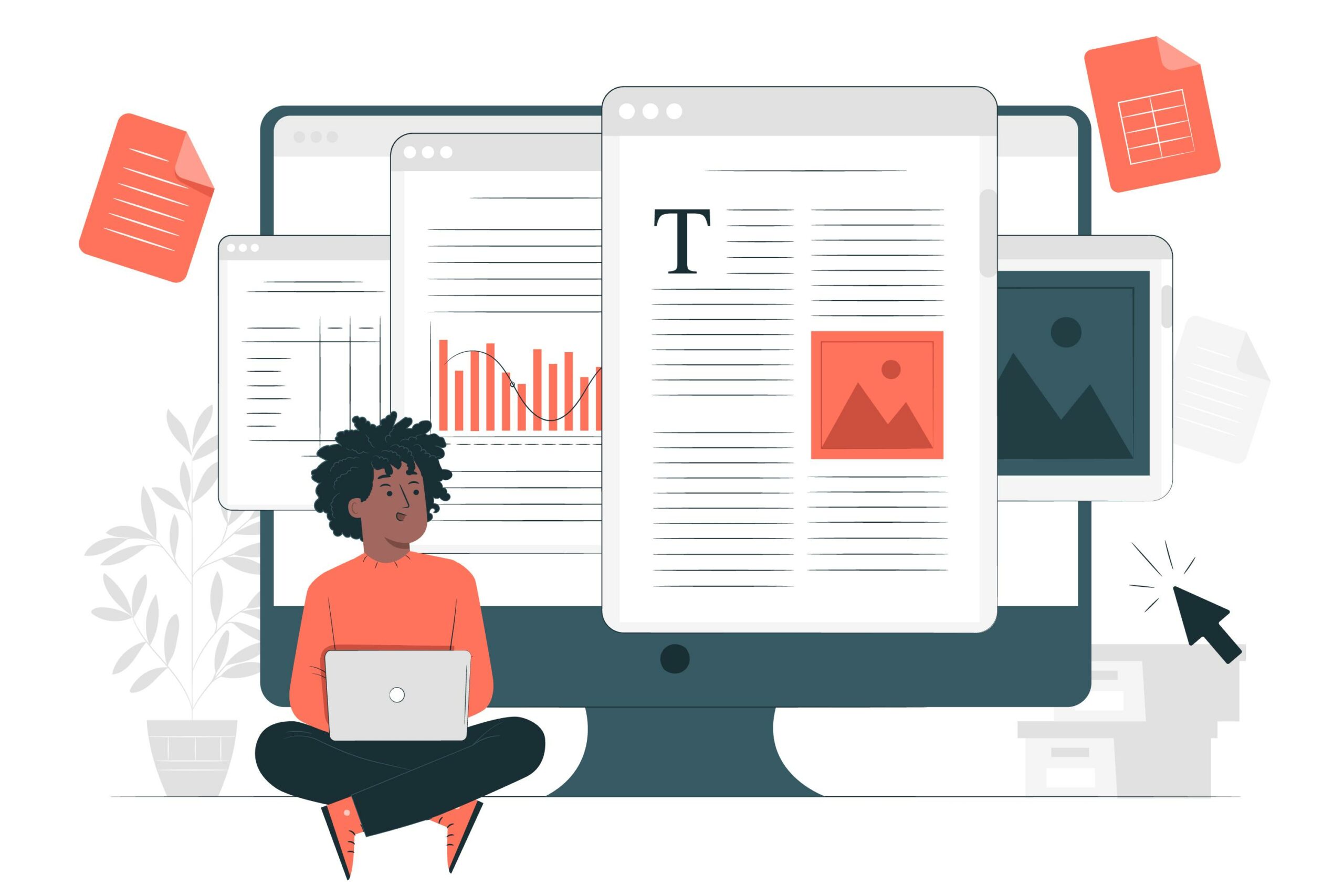 We all can relate that "Digital is the Future of All Business Industries"
We all know how technology has evolved the traditional world into a digital realm. It has made a great impact on how we do business today. To survive in this fast-moving digital world, you must have to cope with advanced digital technology. For better or worse, you must stay ahead of the curve or tap out.
Thirty years ago, office workers used to communicate via paper memos about news, policy, and project updates. Now with the help of technology, these printed messages are replaced by email, and many teams now communicate by instant message, text, social media, or intranets. Additionally, in the past, face-to-face meetings were required for group collaboration with colleagues or partners, now, videoconferencing technology enables people to collaborate without ever having to travel or meet in person. Today, web conferencing is facilitated by internet applications such as Skype, Microsoft Teams, and GoToMeeting, which enable individuals in different zones to collaborate and view the same presentation with perfect sync.
The performing arts industry, like other industries, faces the same crucial challenges. And one of those amplest challenges is document management. Let's discuss further about the document management challenge faced by the performing arts industry.
Document Management, A Big Challenge for Performing Arts Industry
Every business in the performing arts industry must deal with document management issues daily. Especially when your venue is jam-packed with consecutive bookings, and you have to deal with a heap of paper then it becomes a mess to deal with that manually. Physically sharing the files becomes chaotic and makes you disorganized. These issues frequently create bottlenecks in the workflow chain, clogging up the next department receiving the data and wasting valuable company resources. This can lead to wasteful spending and decreased productivity.
Keeping up with an ever-increasing slew of paperwork is no easy feat. You must have complete control over how our documents are handled and tracked to get the most out of them. Without proper management, the document process will be slow and difficult to find documents, resulting in lost time, less productivity, and wastage of money. You may also be exposed to legal and regulatory concerns because of inefficient document management and slow document search times.
Let's discuss some of the critical issues  the performing arts business has to face due to this challenge and how modern technology can provide solutions to overcome these issues.
Wastage of Productive Time
Dealing with paperwork, particularly paper ones, is likely to be the most time-consuming chore you'll ever undertake. From drafting the paper to revising it, changing it to a different format, and sharing it, everything takes time (and a lot of nerves). You could have spent your time and efforts on more productive activities instead of dealing with papers.
The arrangement of your digital data has long been a neglected component of being well-organized, and it continues to be so. Because you cannot see or feel the digital mess you have produced, as opposed to the paper mess you generated during the old-file-cabinet-era, you may not realize you have a problem until you are unable to locate a specific file or file folder.
Hence, you have wasted valuable time searching for a document in your cabinet, on your computer, in chat messages, or in your email attachments.
Solution
Modern technology has a million ways to preserve your valuable time so you can utilize that time for developing more productivity. For example, you can consider replacing your manual content and document management system with a digital document management solution that converts your paper records into electronic documents. It takes far less time to edit, convert, and exchange electronic documents because these are operations that can be completed with a few clicks, saving you both time and effort. Hence, you will be able to efficiently use the time and effort in bringing more productive things to the table.
Sharing Important Documents to Offshore Team Members or clients
The performing arts sector employs a unique model that is different from other industries, and with that model comes a distinct set of issues. Being a theatre owner, you need to manage so many important documents including budgeting reports, event details documents, performance notes, event contracts and much more. Often there is a huge need to share these documents with the clients who are currently abroad or with your offshore marketing team.
You can only share the important documents on WhatsApp groups, other social media, via expensive courier services, or you have to travel on your own for those confidential documents, which costs too much and run your budget out. The requirement to travel for many of the industry's tasks creates substantial difficulties for everyone involved. In a world where intangible ideas such as music, movies, and photographs make up the vast bulk of the industry's products. It becomes huge trouble to share all of them separately.
Solution
For instance, you want to share the same document with several users at the same time, an intuitive Intranet Portal is a terrific solution for you. You can simply upload the file and generate a link to distribute it to your team. Everyone who receives the tool will be able to view or edit the document depending on the parameters you provide. This way you and your crew members can experience an online document management system, eliminating the issue of sharing it manually. You can synchronize all your event management data to one single platform and can make it accessible to whom you want.
Documents Security and Governance
In today's world, document security is critical, especially if you have all of your documents in digital format. Your official papers are likely to include a great deal of sensitive business or customer information that needs to be kept safe and confidential. As there is huge competition around the  performing arts industry in the usa, there are more chances to get your confidential documents theft. It's important to remember that cybercriminals don't just target large corporations. They often target small enterprises as well. Paper records are also in danger of being stolen, destroyed, or simply being lost. Consider how much information would be lost in the tragic event of a headquarters fire. So, how can you be certain that your documents are safe?
Solution
An electronic document management system can assist you in keeping your records safe from hackers and unexpected harm. Digital files can be secured in a myriad of different ways with the use of security software, security tools, and antivirus software, among other things. In addition, copies of electronic documents can be stored in the cloud, ensuring that they are never fully lost, no matter what happens to the originals. You can find the security and governance features in intuitive event management software.
Editing and Errors in Documents
As a theatre manager, you cannot afford to make even the tiniest spelling or language error in your documentation. Directors, marketing specialists, and even clients will have access to and read these materials. Grammar and spelling errors in official papers are an obvious sign of incompetence and can damage your theater's reputation. As a result, you must ensure that all of the documents you are in charge of are properly edited before distributing them to supervisors, clients, or any other business associates.
Editing, on the other hand, can be quite time-consuming. While managing the consecutive events you can overlook many of the errors that may be present in the content.
Solution:
When it comes to editing and correcting, it is ideal to convert your hard copy documents into electronic versions as much as possible. You may quickly and easily edit your documents if they are digital. Editing software will scan your text and identify all spelling, grammar, and even style errors, and it will assist you in correcting them in a matter of minutes. You can integrate different editing apps such as Grammarly and Hemmingway into your online document management system.
Converting The Documents to Different Formats
Have you ever had to convert a document from one format to another just because your clients requested a different format than what you were using? At first sight, it appears to be extremely challenging. Documents should be used to enhance productivity rather than to deprive it.
Daily document challenges that cause you to come to a complete pause. Important, but time-consuming reports that take far longer to complete than your lunch break. Handwritten notes that are difficult to read and are not clear enough to be shared are a problem. Files that are in an unusable format or are written in an unreadable language. You have sensitive information that you can't afford to reveal mistakenly.
These day-to-day difficulties slow you down, depleting valuable time from your day and interfering with your ability to concentrate on what is most important to you.
Solution
An online document management solution enables you to convert electronic documents from one format to another within minutes. For example, you can easily convert your word documents, excel files, and PowerPoint presentations to PDF files. In just a single click you can have many copies of your original file converted to diverse formats. It would not be a hassle if one of your clients asks you to provide a different format version of the documents.
Multiple Contract Creation at in Minimal Time
While running the busiest venues and dealing with multiple clients at a time, it becomes complex to create various contracts at the same time. Managing a theatre or an arena is an extremely difficult process. Sometimes, you don't have much time provided by the clients and have to deliver the customized contract within minutes. It gets worse when it comes to creating back-to-back contracts for different clients and getting the contract finalized to customized formats.  There comes the time when you get frustrated and try to get rid of the mess.
Solution
With the help of a contract generation platform, you can set up a procedure that enables your employees to generate their own contracts, without the need for legal assistance. It's simple to get data out of contracts and see what's in them. Contract renewal and renegotiation terms might be rapidly extracted and organized using this system. In addition, it can help organizations evaluate contracts more quickly, organize and locate vast amounts of contract data more readily, reduce the likelihood for contract disputes (and adversarial contract discussions), and enhance the volume of customized contracts.
Takeaway
By reading so far you can completely understand how modern technology helps the performing arts industry to overcome document management challenges. You can also relate that technology enables you to do more with less effort and time.
If everything is done correctly, the documents, data, and critical information can be stored in a centralized repository that only authorized personnel can access. For that purpose, you will be needing a robust online document management solution for your events and venues management. It might be overwhelming to decide the best suited technology services to overcome your document management challenges.
At VenueArc, we have highly equipped and pro developers who are capable to transform your manual document management tasks into an insightful, dynamic, and user-friendly digital platform customized to your unique business needs of performing arts.