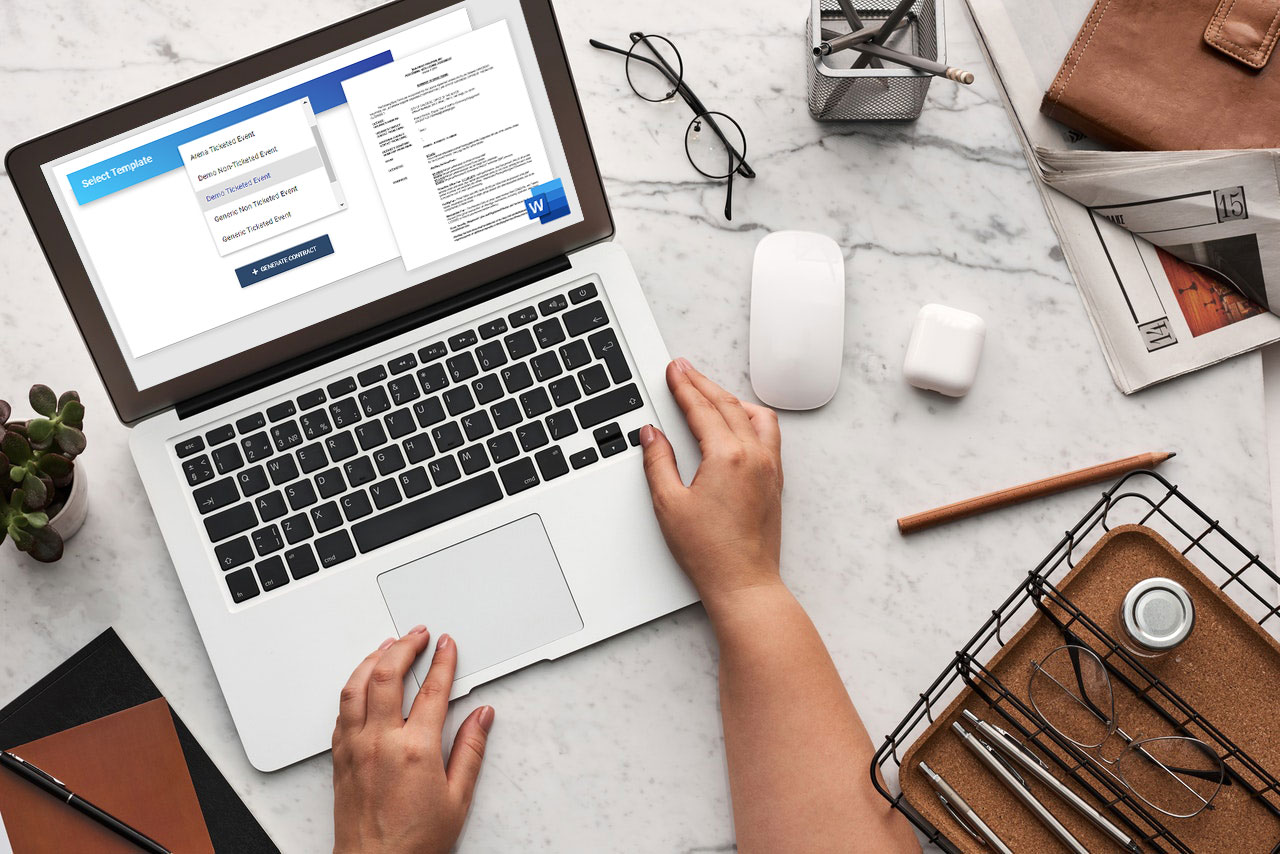 The conventional way of managing contracts necessitates a significant amount of mundane effort, which is time-consuming and inefficient for today's business environment. However, you can now construct online contract management that are machine-readable with the help of a contract automation platform, allowing you to detect, track, and analyze essential information in your legal papers in real-time.
Using intuitive, in-browser functionalities that integrate with your other key systems, advisors and business colleagues can quickly create, negotiate, review, edit, approve, and manage all your venue's contracts from a single location. You can also eSign and manage all your company's contracts from a single location.
With this guide, you will learn the worth of designing online contracts that use structured data to make your venue's contract-related information more accessible and trackable, as well as manageable and measurable. As a result, rather than being burdensome bottlenecks, your contracts can be transformed into adaptable digital assets that assist you in driving growth for your theatres, arenas, and auditoriums.
The Difficulties While Managing the Contracts with Performing Arts Clients
If you work with artistic clients, you're probably familiar with the complications that arise when managing with client contracts. However, simply knowing a contract detail does not guarantee you always create one easily. Or, if you do create them, you come to encounter the intricate phases of whole contract generation lifecycle. And obviously, if you are establishing a written agreement that generates money and safeguards you and your organization, so the whole process should be done with extreme vigilance and supervision.
Additionally, it makes logic! Client contracts might be scary due to all the legalese.
However, they do not need to be. At its heart, a client contract is not intended to create traps using perplexing legal jargon. Instead, it's intended to spell out critical facts about the project's scope, deliverables, payment, timeframe, and other contingencies—and to protect your firm if one of those things goes bad.
However, how exactly do you accomplish this? How do you write a contract that aligns you and your client? And if a client breaches the agreement, how can you enforce the contract's provisions—while also safeguarding your business? To solve all these troublesome operations make your venue management job, intricate.
What is an automated event contract? How can it make your contract management job a matter of minutes?
In the context of a legal or financial agreement, an online event contract is formed, agreed upon, and signed electronically, accessible on the internet through browser-based intranet or software. While traditional contracts that were used to be signed with ink on paper, online contracts may be executed and signed electronically using a variety of devices, making them an attractive alternative for theaters and performing arts organizations looking to proliferate.
Here are the 5 time-consuming processes that you can perform in just one click with the help of an automated contract generator.
Set Your Payment Schedule Like a Shot
When do you want clients to pay you for your venue? Most venue managers work involves an initial deposit, with the rest paid after the theatre event.
In your contract and in your venue reservation timeline, you can set a due date for the initial deposit. Until it is not paid, you will not begin work until the client pays that amount.
The client can pay the remaining when the event ends, or in smaller increments for each milestone in the planning phase. You can customize all the details and fields accordingly. Be sure to break down the line items (e.g., venue rental, equipment, catering) and include taxes and other added fees.
Enter The Event Contractual Details in a Simplified Electronic Contract Form
An automated contract generator lets you enter all your contractual details in a pre-built electronic contract form. You can complete this process in minutes. With the help of a premier solution for the electronic contract form, you can save time by eliminating the need to fill out the contract form manually. Instead, you can use it to digitally insert contract details into a document with the help of an exclusive input form that includes custom fields tailored to your theater's specific needs and specifications.
Draft Contract for Future Contract Generation Convenience
With an advanced contract management technology in place, drafting contracts becomes simple, and it is possible to avoid the recurrence of the same contract over time. A contract with relative terms, conditions, and legalese can be used as a template for such contracts in the future. By utilizing a uniform contract template that has been pre-approved by your legal team and editorial board, you may avoid the repetition of contract drafting many times. It's almost as if the contracts will write themselves, giving you the freedom to devote your time and energy to other important aspects of your theater.
Integration of Multiple Contract Templates
You can get your custom-designed templates set up and incorporated into the system to ensure that contract management is as easy as possible.
If you are frustrated with creating contracts in different templates because you work for several vendors, it can make your life trouble-free. To make the process flow more productive and timesaving, this solution ensures that different templates are pre-added through the admin site before the function begins.
A single click allows you to download the customized contract templates in the format of your choice, making the process of contract management a whole lot simpler. In addition, the templates are integrated with contract fields, which automatically populate the predetermined values in the template when the template is displayed.
Contract Management Best Practices
You may make the CM system more valuable by putting in place some best practices to guarantee that you get the most out of your contracts. These best practices are as follows:
First, create a centralized repository for all your contracts.
Maintain a centralized repository for all contracts in your organization, which can be accessible by all parties that need to know about them. This tool will be helpful to keep track of contact information such as terms and conditions, renewals, and so on,
Assure team collaboration throughout the contract's lifecycle
The legal department oversees supervision the contract management procedure in most business instances. Therefore, ensure that strategies or communication channels are in place for contracts intended to reflect the stakeholders' interests. A contract provides the desired results with the least risk when the legal department and other business divisions work together and communicate effectively. Additionally, it prevents the different business divisions from becoming utterly reliant on the legal team.
Ensure contract compliance throughout the agreement.
It is critical to ensure good compliance management throughout the lifecycle of a contractual relationship. It aids in compliance with regulatory/legal as well as corporate obligations. In addition to preventing financial and operational loss, contract compliance stakeholders mitigate a wide range of risks.
Standardize contract management methods without imposing rigidity on the participants.
The standardization of various stages of CM will minimize cycle times and the inefficiencies that result from them. Because most contracts have common agreement types, the organization can create standardized templates. Pre-approved templates that are updated regularly assist in adhering to regulatory and legal requirements. Every firm should have a contract management policy to ensure that business units attach to a consistent approach to managing their contracts when dealing with contracts.
The Advantages of An Automated Contract Generator
During the contract automation generation process, online contract automation solutions collect crucial data such as commercial terms, obligations, and liabilities, among other things. Additionally, data points such as touch times, commonly negotiated terms, approval rates, cycle timeframes, and other metrics are recorded throughout the contract lifetime.
On the other hand, using Word or PDFs to maintain contracts results in a lack of structured data – documents are difficult to search, negotiation data is lost, and it is difficult to determine what duties and dates need to be monitored promptly. As a result, firms end up spending thousands of dollars on artificial intelligence contract analysis to figure out what is in their contracts.
All contract data is organized in a logical sequence when drafting online contracts in an automated contract generator. As a result:
It is easy to find structured data and to follow it down. It is also easily measured and readily available for automated and analytical procedures. Unstructured data is frequently none of these characteristics, necessitating a lot of manual effort to format it manually.
Other software applications can also read, understand, and utilize structured data. To achieve successful software integrations with key platforms such as Salesforce, you must increase communication between systems and teams within your organization. This will help to break down information silos and ensure that your contracts always contain the most up-to-date and accurate data available.
The ability to query structured contract data at any time, throughout time, and in various ways allows you to see trends, make definite conclusions, and make more effective short and long-term decisions and strategies. This is critical information to have when assessing contract compliance and conducting routine contract audits.
Contract Automation in a Nutshell
In this article, we've discussed some of the vital aspects of contract management software faced by the performing arts industry. In an upsurge, we talked about the significance, benefits, stages, and best practices that performing arts centers can use to make contract management processes more effective and productive in the long run. As a result, organizations are becoming more aware of the strategic importance of contract management in accomplishing their overall business goals.
Are you ready to take your contract generation procedures online with VenueArc? Request a Complimentary Demo Now! And experience a world class contract automation solution with us.