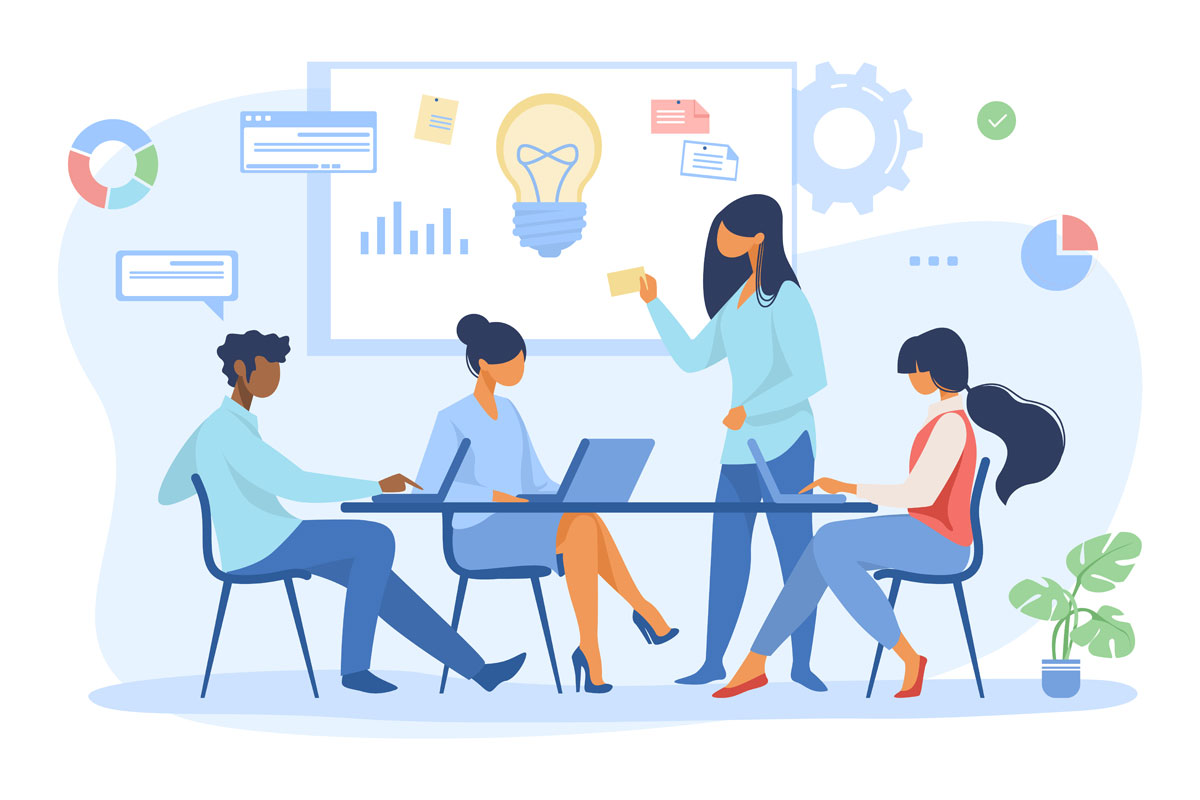 Businesses all over the world have been compelled to go digital to continue their day-to-day operations smartly. When it comes to the cultural sector – which includes the arts, cultural heritage, and cultural industries, collectively known as the creative industries – digitization has revolutionized it, and, as with other revolutions, things have shifted in unexpected ways. Even so, technology is fast reshaping the consumer landscape, and the performing arts, like other businesses. This industry is being pushed to embrace digital transformation to remain competitive. Due to a variety of factors, including shifting consumer interactions and increased desire for new experiences, performing arts organizations are under increasing pressure to adopt digital transformation, which has had the greatest influence on the performing arts business. Digitalization can benefit the performing arts industry in numerous ways.
"Event technology can help increase event attendance by 20%, increase productivity by 27%, and decrease costs by 20-30%. Source: Enterprise Event Marketing"
This event technology fact proves how digitalization can empower the event industry in many ways and can transform the traditional amateur processes into innovative and digitalized operations.
Can you imagine the number of notes and documents you make during the entire event management lifecycle and how badly it affects your event's budget?
There are nearly millions of papers used during the overall management of an event. Your theatre or venue can save extreme cost while using digital technology for all the administrative and management operations. The event digitalization space is made up of any digital or computer-enabled tool that helps event managers, exhibitors, or other people who work with events as organizers, venue booking managers, or vendors. Therefore, technology has come up with a broad range of digital solutions for all of them. The digital tools that are currently available in the market, have a wide range of tech-abilities. They could include event marketing software, event management software, designated mobile apps, mixed reality stations, artificial intelligence programming, and data collection tools, among many other things. Before digitalization, hosting and attending events used to be a highly manual procedure. Attendee lists were printed and used on-site to verify registration, but they couldn't be updated in real-time. Promotional materials were restricted to specific mediums and thus audiences. And evaluating the event's numerous components proved to be very challenging.
To provide a more streamlined experience for both the planner and the visitor, event technology is being developed to eliminate most of these issues. This will allow for more satisfaction with the event with minimal miscommunications and more systematic data accumulating.
Here are some of the greatest benefits that digital solutions bestow to the performing arts industry.
The Benefits of Digitalization to the Performing Arts Industry:
The rapid growth of digital technology has a significant impact on traditional art domains. Theatres, arenas, and auditoriums, among other performing arts spaces, are increasingly adopting technology, as seen by their millions of social media followers, live streaming, and online event and venue management. A successful concert marketing campaign not just, only involves bringing people to your event; it also involves following up with them afterward to ensure they had a positive experience. Many innovative digital initiatives are being seen in the art sector, which is leading the way. One of those initiatives is the online event and venue management solution that is taking the performing arts industry to new levels of success. With the help of dynamic tools offered by digital innovations, many theatre and venue managers are now capable of managing their events more efficiently.
Since the digitalization of event management processes, event managers now have easier control over carrying out their duties. There is a multitude of event and venue management software available that can be used to streamline the process of planning any type of event. These tools can assist you in better planning events, ensuring that everything runs as smoothly as possible. Possessing this massive quantity of tools and aptitudes must be accompanied by a comprehensive and in-depth knowledge of every detail of these tools and their capabilities to enable venue managers to freely manage their theatres, venues, arenas, and auditorium.
It Saves Your Valuable Time
Event management software can assist you in concentrating on the most critical areas of the planning process. The program organizes data for you in a way that makes it simple for you to work with it. You will not have to waste time putting everything together. You can begin working on the most important aspects of the event right away. With the digital help, your theatre day to day operations will get streamlined. For instance, all the important data of your clients will be saved digitally, and you can easily access that data from anywhere and anytime. This way, as a venue manager, you will be more capable of handling your clients' important details. It can save you from spending hours of data entries. A digital event management solution will enable you to automatically record and formulate the data. You don't have to create a separate booking form according to the specific client details. By using an event booking tool you can get customized booking forms at the same time for multiple clients.
You'll save yourself a lot of time and effort. As a result, you may devote more of your energy to other important tasks because the event management software keeps track of everything for you. You can freely organize and manage your events by taking benefits from digitalization. The smooth flow of events will increase the chances of client returns for future bookings.
Simplified Event Planning
When it comes to event planners, taking advantage of technology's advantages shouldn't end when you walk into your office. The glamorous facets of event planning are tempered by the mundane aspects of the job, which include using Excel spreadsheets to track event attendees, creating hand-mailed invitations and name tags, and manually tracking event budgets – all of which are extremely time-consuming and do not require much creative thinking on the part of the planner. Planning for a theatre event enfolds so numerous phases, from the initial conception and brainstorming stages through to the schedule for the actual event night. Everyone wants their events to run smoothly. Managing your event operations online can help to reduce stress and allow the theatre managers to plan and supervise their events persuasively.
Through the use of event and venue management software that integrates every aspect of an event from planning to production to the analysis of success, event managers can devote more time to parts of their jobs that require talent and strategy, such as giving attention to VIP attendees. With technology, event planners can reduce manual work and increase efficiencies, increasing the possibility that attendees will return for future events. Digital solutions help in all roles varying from audiences' satisfaction to project management, so make sure to give it a try in your next event!
Digitalized Venue Booking System
To book an event or venue, customers do not want to wait till your office is open; they usually prefer to book it according to their own timetables.  By utilizing an online booking system, your business can always remain open.
When there is space available for a given date on your calendar, your customers can choose their options, select a date and time, make a payment, and receive an email confirmation all without the need for any human interaction on your end – allowing you to devote your staff's valuable time to more productive activities. That is a significant advantage of online booking systems, and it is one that can be extremely beneficial to your performing arts business
There are more additional ways digitalization can help your business. It will not only improve appointments and profits but also will help with scheduling and rescheduling the events, allowing you for better resource planning and lower admin costs.
Ease of Access to Event's Documents
"According to a survey conducted by Nielsen Scarborough in spring 2016, over 47 million Americans had attended a live theatre event within the past month and around 73.5 million people had visited a performing art event in 2013."
By reading the above statement you can completely realize the amount of paperwork is used in the theatre industry per day. Manually managing this huge number of documents can be a total mess. If you will spend most of your time manually creating documents for each event, you will indeed get your time and budget out of your hands.
Thanks to the technology, it has come up with the best solution for all your document management mess. An online document management system is an effective and time-saving tool for organizations of all sizes.  A DMS can fetch files based on a word or phrase contained within a document, depending on the solution implemented. Access to essential information is made more convenient through easier connections with productivity apps. It also provides the ability to access documents from a remote location.
Secure and Protected Work Environment
Developing appropriate and effective governance structures for events of all sizes should be a top priority for everybody involved in event management. Greater events may require more complicated governance models. Better governance structures and processes will lead to more effective decision-making, risk management, and outcomes in the long term.
Event and venue managers can protect their business data through digital security solutions. They can develop a system with the help of a digital governance platform that is designed with the organization's processes, workflows, and policies in mind, thereby enforcing systematic governance throughout the organization.
Now You Can Understand How Beneficial Technology is for Your Performing Arts Business. 
Performing arts events are the biggest leading channel for lead generation, converting your business into a revenue machine. To improve this mighty channel, venue managers require perfect solutions for tracking exactly how much revenue they are generating. This causes the need for digitalized event management solutions to integrate with CRM, event, and venue booking systems, and the overall venue management process to enable organizations to track project success throughout the entire project lifecycle.
You must stay on top of technological advancements in the event business if you want to remain at the forefront of the industry. This is especially true if you are in the midst of event planning. As you begin to learn about and comprehend new advances, consider how they may be implemented in an event environment creatively and innovatively. This is the only way to distinguish yourself from the competition in the event sector and keep your venues packed. With only a few digital integrations, you will be able to completely transform your event and provide your visitors with an unforgettable experience that will encourage them to return. Are you prepared to begin?
Check out what we have to offer at VenueArc and get in touch with us for a quick consultation. Our workforce has gained a thorough understanding of the mixed reality and digital technologies that are currently accessible to assist our clients in creating unforgettable events for their theatres. Client collaboration is significant to us, and we take great pride in bringing their creative dreams to reality.  If you have a plan for your next event, we can assist you in making it a charming reality.