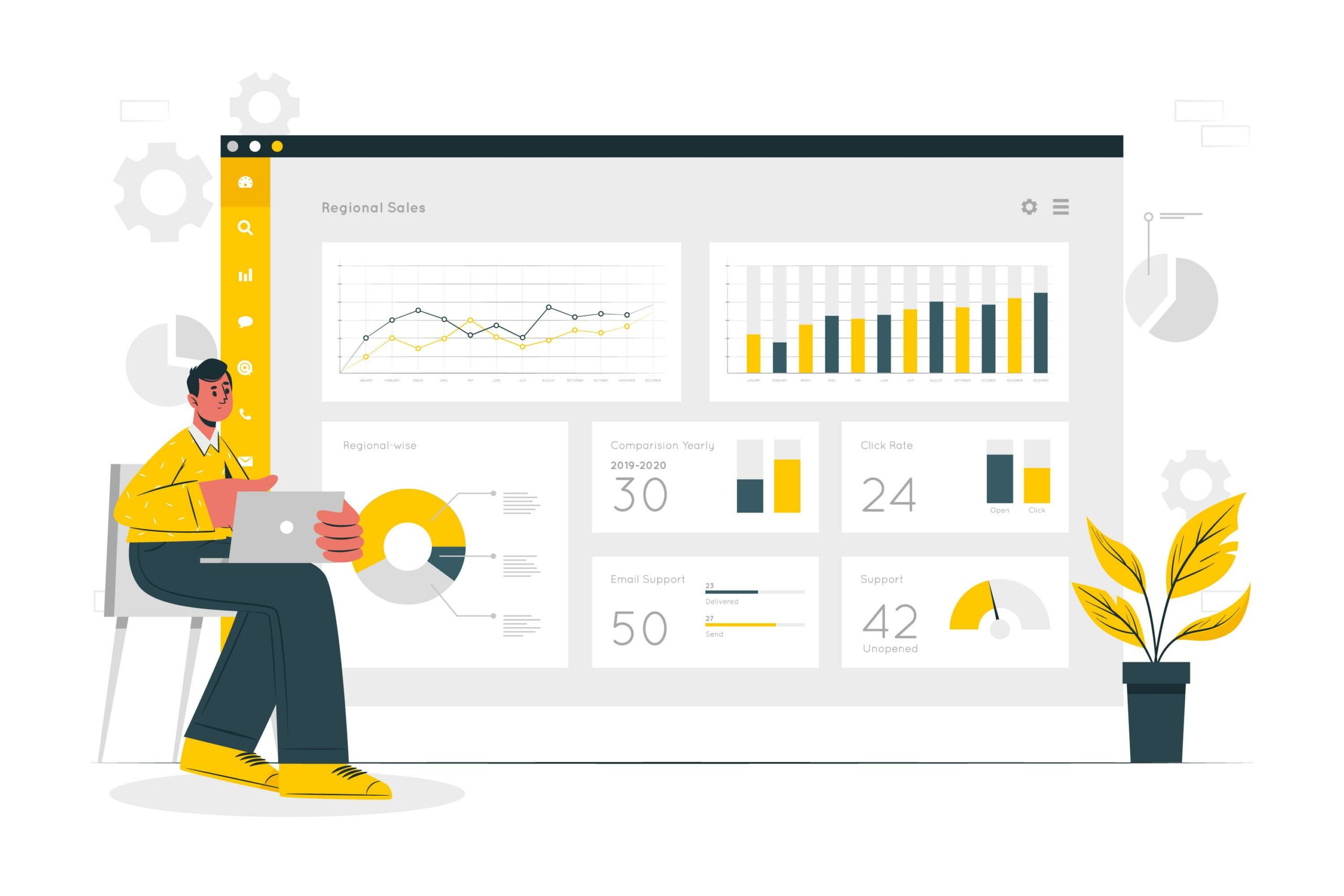 Curious about how advanced reporting and analytics can level up your performing arts business? We have prepared some worthwhile information for you. This article will clear all your doubts about how advanced analytics do marvels for theatres and other performing arts venues.
But first, let's get obvious what advanced reporting and analytics is in general.
Advanced Analytics in General
Advanced event reporting and analytics for businesses is a broad term that refers to a collection of high-level methods and tools that can assist you in getting more value from your data or getting a simplified form of all your raw data. Because of its predictive capabilities, you can indicate trends, events, and behaviors. In addition, the ability to perform advanced statistical measures, such as "what-if" calculations and the ability to various future-proof aspects of events operations, is comprehensively provided by advanced analytics.
There is much more together with advanced analytics than you guess!
Machine learning and artificial intelligence, semantic and graph analysis, data and text mining, complex event processing, pattern matching, predictive analytics, data visualizations, sentiment analysis, network, and cluster analysis, multivariate statistics, simulation, and neural networks are just a few of the areas that make up the magic of advanced analytics to your performing arts centers. The list is constantly growing as new techniques are invented and adapted to the data analytics world.
Data mining, a critical component of advanced analytics, is an automated method for extracting useful information from large amounts of raw data in a standardized manner. Big data analytics are used for various tasks, including discovering previously undiscovered insights, establishing connections between data points and sets, and cleaning data. When predictive analytics is used in conjunction with clean data and existing insights, it can be used to finalize and make predictions and projections about future activity, trends, and consumer behaviors.
The explanation described above is all you can take as advanced analytics real definition. But when you talk about the implementation of advanced analytics in performing arts centers, it helps in numerous ways. For example, if you manually measure the revenue you have generated in past years, it will surely take considerable effort and valuable time. Or, if you evaluate your venue performances by asking your team members one at a time, it will require a great deal of mundane effort. By doing all these tasks manually, you will spend more time on extra and time-consuming activities instead of developing productivity for your business.
Some Key Benefits of Advanced Analytics to Performing Arts Organizations
Advanced analytics makes sense of large amounts of data and gives actionable, forward-looking insights.
Advanced analytics is a branch of business intelligence that is more complicated, forward-looking, and vast in scope.
Advanced analytics identifies opportunities for firms to improve their operations.
With technological advancements such as cloud computing, the future of advanced analytics is bright.
A lot of valuable work can be done to focus on advanced analytics. For example, to spend more time on strategic projects, you can automate data sorting, cleaning, and analysis.
Fact-based information usually leads to better decisions than decisions based only on intuition or experience.
In business, advanced analytics can help business leaders be more proactive and predictive about running their businesses. This is because their field of vision is wide, which spreads through the whole company.
Sales and marketing can shift their efforts from generalized customer interactions to personalized interactions by using deep, customer-specific data from advanced analytics.
The predictive analysis gives business managers a statistical confidence level, which means they can worry less about misreading a situation and more about coming up with new strategies, products, and services.
Advanced Analytics Significance for Performing Arts Centers
In the domain of performing arts event management, advanced analytics is the next generation of innovation. It is designed to consolidate multiple systems into a centralized platform, which simplifies the discovery of the root cause of any given problem. Like cloud computing and universal analytics, machine learning algorithms have automated much of this process, requiring less mundane interaction to successfully resolve an event, and providing performing arts organizations across all sectors with a marked competitive advantage in the fast-paced digital age.
Due to the massive volumes of data being generated every day, organizations are constantly looking for innovative methods to use all of this information. Advanced analytics assists businesses in accomplishing this. It enables businesses to improve the efficiency of their operations while also innovating to obtain a competitive advantage. Advanced analytics, through improved consumer analysis, predictive analytics, and statistical modeling, is assisting businesses in improving decision-making and keeping up with the demands of very competitive and rapidly changing markets.
Encounter some eye-opening facts about data and analytics:
By 2023, over 33%of large-sized businesses will practice decision intelligence.
Data analytics makes decision-making 5x fasterfor businesses.
Self-service business intelligence is crucial for 60% of research and development departments.
The global business intelligence market will grow to $33.3 billion by 2025.
Most businesses adopted business intelligence in 2020
Source: TechJury
Power up Your Theatres and Venues with Advanced Analytics Operations
By advanced analytics, you can build your performing arts business more effectively. It will allow you to proactively manage your performing arts centers. There are several events and venue management companies that provide a comprehensive platform to automate your venue's managerial task. Usually, most of them provide specific digital solutions to fulfill your venue management needs and advanced analytics and reporting feature is mostly included in their services pack. By utilizing their analytics and reporting services, you can leverage for your performing arts event venues. By using event management software that provides an advanced analytics module, you can analyze your events data, have access to an interactive online dashboard with customizable and printable reports. These reports consist of raw and resolved data, calculated fields, and percentages on comprehensive financial, utilization, activity, ticket sales, venue bookings, recruitment, and compensation data.
VenueArc reporting and Analytics software is very crucial for making important business decisions and planning for the future. You can have a digitally enabled analytics and reporting tool for your theatre that can be used to work with your current system. It will make your data into unique charts and graphs that will give you the latest information about your event's activities, operations, and planning.
By automatically managing the overall theatre performances, monthly rental days, event overview with details, and event highlights, it will drop out the chances of your theatre outrun.
Advanced Analytics Has a Better Idea
Do you think only mundane efforts are enough to mark your business? Think again… As you are well aware of how much digitalization has transformed the traditional world. You cannot risk your business by ignoring the huge significance of digital power. Your main goal is to make people happy, isn't it? They will decide whether or not the event was a success based on how they think about it. That's why you need to get to know the people who book your theatres.
To make your theatre clients happy, you need to give them a personalized experience, and we all know that personalization means knowing who the clients are.
Getting data and looking at the email list for the venue is a good way to learn more about who might come to the event. To better understand their age, gender, occupation, education, location, and more, look at and break down their demographics.
A self-service tool for advanced analytics provides you with a vigorous environment that includes computational linguistics, analytical algorithms, and data mining. An easy-to-use NLP search tool makes it possible to analyze data quickly and accurately. In addition, it suggests connections and gives business users new information about previously hidden data. This way, you can explore meaningful business results, patterns, trends, issues, and opportunities and improve productivity and smart decisions across the organization.
Venue Marketing and Client Analytics
Knowing and understanding your theatre customers in order to improve their experiences is essential for your business's success. Organizations who are able to predict a customer wants precisely and match them to the appropriate product at the appropriate pricing will have an advantage over their competitors in the marketplace.
While advanced analytic system can integrate data from numerous sources and present past performance to users in a clean and standardized style (e.g., reports and dashboards), they are restricted in their capacity to find hidden patterns in a short period of time.
Aside from that, simple operators and equations may not be able to sufficiently demonstrate the significance of changes in the numbers that have been noticed. To put it another way, cloud-based analytics tools can make sense of the data necessary to predict client behavior. In this case, advanced analytics can help by providing a quantitative way to answer these questions and deal with these difficulties.
Strategize the Workflow with Advanced Analytics
Theatres, performing arts industry, and their surrounding environment are constantly transforming. Unless your workflows can keep up with internal and external innovations, you run the risk of becoming unable to meet the continuously changing needs of your customers and employees.
Your employees also spend the majority of their time performing business-critical tasks such as onboarding new employees, processing buy requisitions and orders and processing vacation and reimbursement requests, among other things.
Advanced workflow analytics ensures that the benefits you anticipated when you signed up for workflow automation are actually realized and experienced. It enables you to track and measure your workflows and identify and decode pain areas and operational bottlenecks in real-time. The level of accuracy provided by workflow analysis allows you to conduct each process with the greatest amount of efficiency and effectiveness possible. When evaluating business operations for efficiency and productivity, customers' satisfaction, regulatory compliance, and staff engagement are all factors to consider.
It is possible to design extensive automation scenarios using Workflow analytics, which comprises various elements such as Events, Conditions, and Actions. It is feasible to optimize them due to the extensive study performed on this module. Workflow analytics provides information about the sales generated by a certain campaign (theatre, arena, or auditorium events) and information about the effectiveness of communication at each stage of the campaign. As a result, you can assess which operate effectively and which ones require more development.
Bringing It All Together
If you can't measure it. You can't manage it.
Many performing arts organizations are sitting on an ever-growing mountain of data, the ultimate power of which — predicting the best future direction for the business — is still out of reach for them. This is where advanced analytics comes in. By utilizing cutting-edge tools and statistical analyses and algorithms, advanced analytics can make sense of the data that resides across multiple company platforms and provide deep insights into business patterns and customer behavior to help forecast trends and predict upcoming events.
If this knowledge were made available through an advanced analytics platform, it would provide a competitive advantage to any company, allowing it to realize new opportunities, avoid potential problems, and embrace innovation, among many other benefits that can increase revenue and decrease expenses for businesses. Thus, it will allow you to set more manageable performances, automatically generate event summary reports, venue-wise event rental days reports, and many other event-related reports for your theatres and performing arts centers.