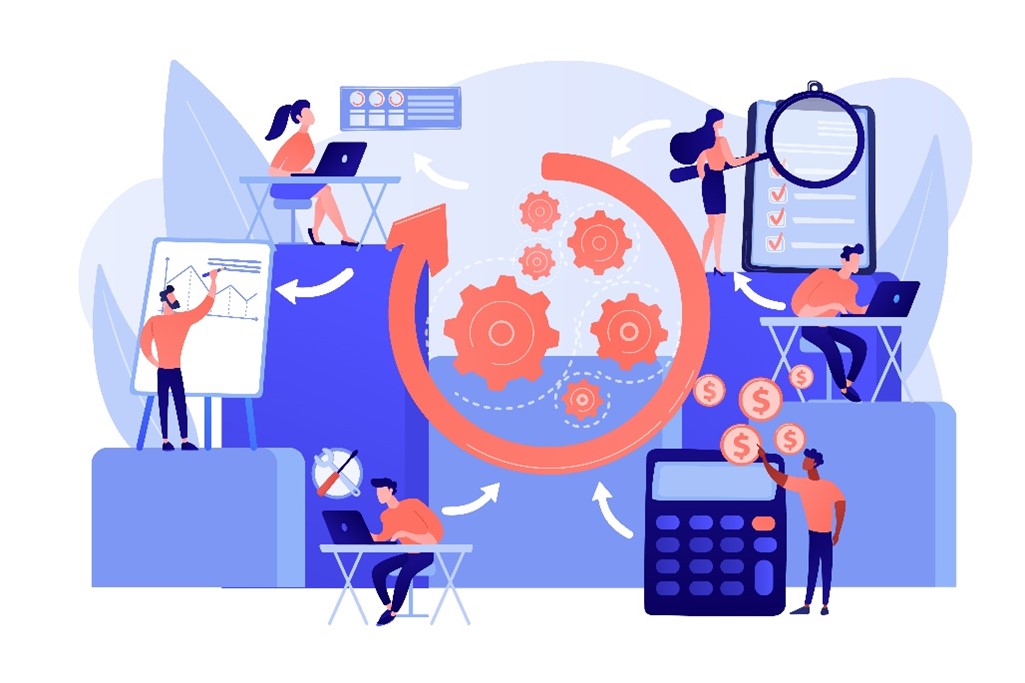 One of the most severe challenges for live events managers, venues, and staff is the myriad of disconnected systems and tools usually needed to do their jobs effectively. It's inefficient, labor-intensive, and takes all of the fun out of managing live events. One of the most difficult jobs is to draft, create, and finalize numerous event contracts and also making them signed with the clients. Especially when you are in the performing arts industry where your clients are always in rush and urgency.
Everyone who has worked with contracts, or even just signed one, is aware of the length of time and steps required to go from draft to signing. We have been assisting event and venue professionals in working more efficiently and intensely in reducing these steps and time windows.
Before delving into our research into what can be accomplished with digital workflows and cloud-based contract lifecycle management, let's first define what we mean by 'contract workflow automation' and 'automatic contract generator.'
Let's make you aware of some of the core features of an automatic contract generator that can be found in a comprehensive event booking and management software like VenueArc.
Some Incredible Features of an Automatic Contract Generator or Contract Workflow Automation Tool
Event Contract Templates to Save Time-You can create your own event contract templates or import legal language from another document. Text formatting and layout tools can help you polish your terms and conditions. Additionally, you can add your logo and colors to printable PDF documents and e- signature screens.
Instant Option of Event Contract Form-Fill in all the details of an event contract using a well-structured electronic contract form.  With an automated contract generation system, you can avoid manually filling out contract forms by using our premier electronic contract form solution. Moreover, you can digitally enter contract details using a customized input form.
One-click Contract Generation– With this tool, contract generation will be as simple as a tap, with all custom contract templates tailored to your theatre or event venue needs. Contract creation appears to be a time-consuming task. The Automated Contract Generator saves you time by generating contracts in MS Word format with a single click. You can also find an option to preset the contract values in the event contract document generated by the automated contract generation tool.
Incorporate Multiple Contract Templates– You can set up and integrate your custom-designed templates into the system for easy contract management. Using this tool, you can pre-save contract templates to ensure that the process flow is more productive and efficient. You can download the customized contract templates in your preferred format with a single click. Contract fields can be integrated into templates to add predefined data values automatically.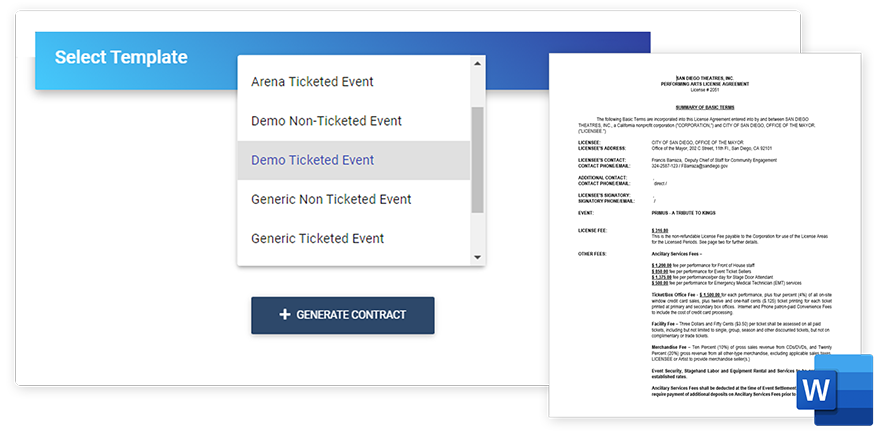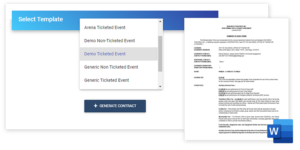 Automatic Contract Generator for Live Events Industry– A Promising Solution for Theatre and Venue Managers
New relationships with live event industry clients can be exciting and promising. You don't want to scare them away by presenting them with a legalese-filled event contract for signing. However, event contracts benefit both you and your client because they clearly define the relationship between the theatre and venue managers and the client. It protects both of you, and this is a good way to explain it to a client who is reluctant to sign a straightforward event management contract.
Note: To know more about the benefits of an automated contract generator for live events industry, you can read our blog, "How is the Performing Arts Industry Benefitting from An Automated Contract Generator?"
6 Reasons Why Event and Venue Managers Should Use This Amazing Contract Automation Tool Right Now!
This Tool is Cost-Effective 
There are a variety of ways to save or lose money between signing a contract and delivering the required services, such as penalties for payment errors or noncompliance and opportunities for rebates or special terms. Through better contract administration, automated contract automation systems can assist you in identifying these opportunities or potential problems.
By incorporating automation into your contract management system, you can reduce the costs and time spent on contract administration, allocating these resources for other essential purposes. Contract automation tool also aids in the establishment of a centralized workflow within your theatre or venues, thereby reducing potentially costly human errors.
Provides Enhanced Accessibility
Finding a misplaced contract is a common issue for live industry businesses that use a manual contract managing method, as contracts can be dispersed across several computers and systems throughout the organization.
You'll need an automated contract management system with a consolidated, fully integrated repository of all your contracts and supporting documentation to improve overall visibility. Such a system is critical for your event and venue management firm: Instead of being at the mercy of missing files and long-gone employees, you can now have control over the contract lifecycle management process.
Delivers Increased Security
Another reason for using a contract automation tool and storing contract management documents in a centralized repository is that it improves the confidentiality of your business's sensitive data. Event management companies may consult and collaborate with employees and staff working remotely from other offices and around the world, not to mention external contractors, making data leaks and breaches a real possibility.
Rather than leaving your data to chance, automated contract management systems can store your sensitive documents in the cloud, where they will be more secure than on your own local systems. You can easily limit who has access, editing, and sharing privileges, allowing you to conduct your business in a safe and secure manner.
Offers Robust Compliance and Conformity 
As a legally binding document, a contract represents a significant commitment on the part of both you and your partners. Furthermore, each of these contracts is distinct, with its own set of policies and legal policies, making it challenging to manage all of your obligations and other legal requirements simultaneously.
The contract automation tool relieves you of the burden by providing features that allow you to keep track of the status and specifications of each contract that is currently on your plate. By implementing an automated contract management system, you will be able to reduce your organization's risk, do better business, and keep all parties content and satisfied.
Speedier Time to Revenue
A delayed event contract represents revenue that will be received later. You can reduce contract processing time from weeks to minutes by automating contract workflows and eliminating manual tasks.
Processes that are overly complicated can even result in the worst-case scenario: abandonment. According to Forrester research commissioned by DocuSign, 32% of organizations report lower completion rates and abandoned deals as a result of inefficient agreement processes.
Simply put, a contract automation tool aids in revenue generation. If all authorized persons can access a contract from anywhere, on nearly any device, it is easier and faster to prepare contracts, agree on terms, and execute them. Your legal teams can be more productive; your sales teams can get free to prospect, upsell, and cross-sell; and no one will spend hours printing out marked-up copies—or faxing them.
The Barely Legible Starting Point
When customers expect quick results, there is no common baseline for the entire organization and the legal team to follow. Businesspersons must compile all commercial terms for the contract and provide accurate answers to customers based on real-time information. In contrast, event and venue attorneys must take the time to ensure compliance and avoid risks. Document drafting and data entry is a lawyer's job. Even if up-to-date Word templates are available, delegating does not guarantee that non-legal managers do not make changes and deletions that may completely violate the contract.
However, the automatic contract generation tool can eliminate all these hurdles and provide you with an instant solution by automating the contract-associated task flows. Also, it delivers digital accessibility to secure repository to your legal attorneys so they can securely create event contracts by just entering some essential data elements.
Automatic Contract Generation Tool for Smart Contract Generation & Management 
Contracts contain a plethora of information that could be managed and shared efficiently using a well-developed contract automation tool. This data can be marked as shareable data points for submitting or received from many other databases (like CRM). Post-contract lifecycle management includes metadata search, analytics, data rooms, and audits. This intuitive contract generation tool ensures that none of the contracts (or contracts data) are lost or gone missing/deleted without human efforts and interaction.
Automated contract generator for event contract document and workflow management aids in risk mitigation strategies while also ensuring compliance. It eliminates manual processes such as data input gathering, contract drafting from scratch, and email approval requests. It is also beneficial to own contract-related data and manages knowledge in one centralized location, as well as track critical deadlines and contract document statistics.
One Solution for All Your Contract Management Challenges!
Now you can relate to how tremendously your event management firm needs an automatic contract generation tool. Wondering where you can get one? We have the answer! "By using venue booking software– VenueArc. "
Ready to automate your event's contract generation process today?
Set up your first contract automation workflow with VenueArc and schedule a free demo with one of our experienced event and venue booking software experts.