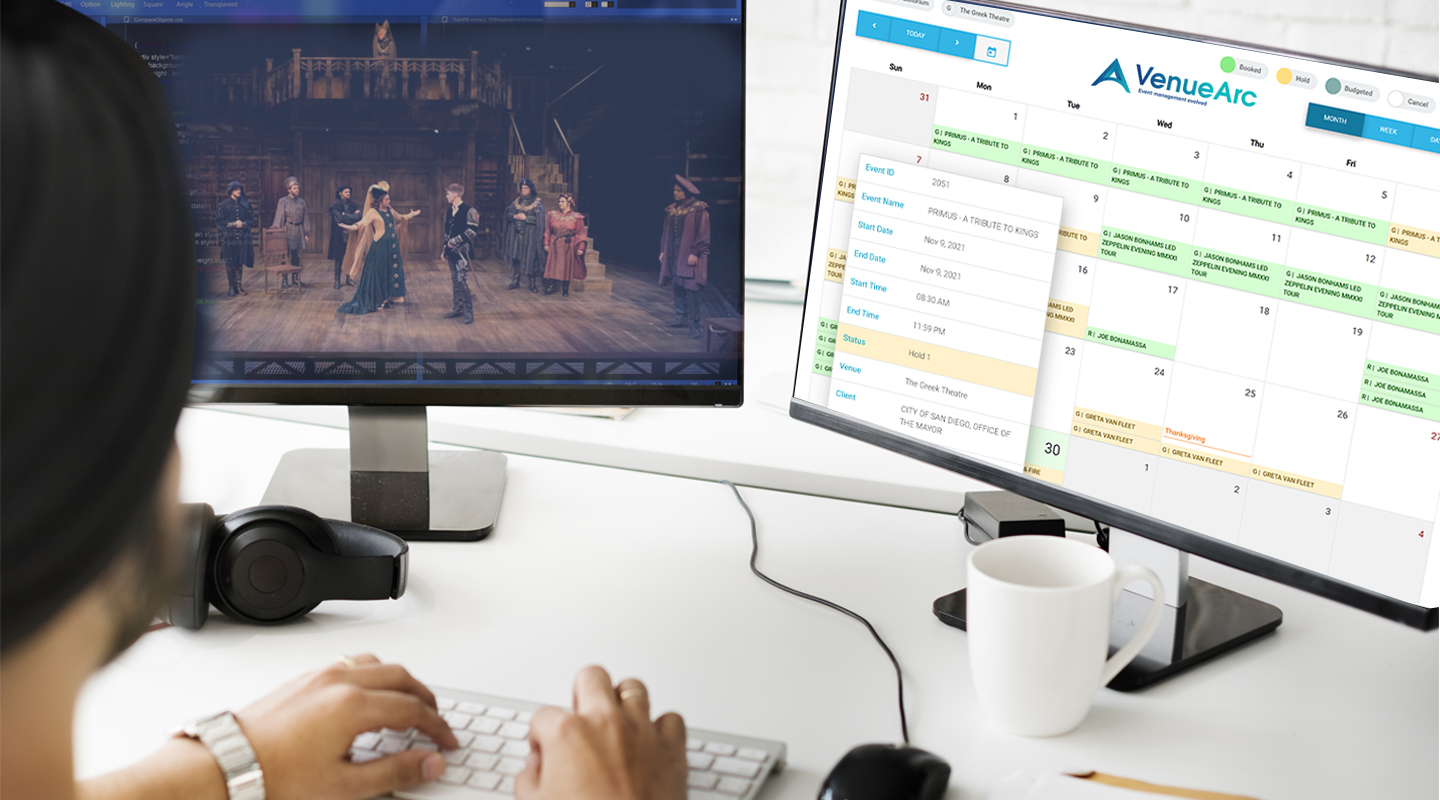 Worth of Using an Event and Venue Management Software
Before we jump to why event and venue management software is vital for your success, let's make you awestruck with some amazing global facts regarding the worth of online event management system.
According to Frost & Sullivan, the event management software business is currently worth around $28 billion and is growing at a compound annual rate of 3.3 percent (CAGR). Additionally, Frost and Sullivan discovered that 80% of professional event planners are currently using some form of event management software.
As of June of 2016, the event ticket sales market had seen a 4.8% increase since 2011. (Source: IBIS World)
On average, 46% of total event revenue comes from registration/ticket sales. (Source: Planning Pod)
 71% of all ticket purchases are made online. (Source: Bizzabo)
Now you can realize the tremendous worth of online event and venue management solutions and how they can take your business to new heights, especially when most of the world is spending time on booking events online.
Organizing an event can be a time-consuming task. There are a huge number of little things that need to be worked out and addressed. Your event may fall apart if you don't meet these requirements. Fortunately, event management software makes it much, much easier to get the details right. All you must do is make sure you spend your money wisely.
To know more about event management software in detail, read our blog on what is event management software and what are its benefits.
How Businesses Transformed Digitally Since the Pandemic?
When the coronavirus pandemic broke out in 2020, it changed the world of events, from teamwork to trade events and festivals and everything else. Instead of being a small part of international business, virtual events quickly became the accepted norm. This led to a lot of people being interested in digital event management platforms, which made it a very competitive field.
However, as the pandemic grows, the future is becoming more clear. Because virtual events are going to be around for a very long time. Therefore, it is imperative that event managers must move to manage events online on a single all-in-one platform. And what would be more effective than a decisive event management software?
Now, in this fast-paced digitalized world, if you want to increase employee engagement, find lucrative business relationships, or showcase your latest inventions, corporate events can be a powerful tool in your company's marketing arsenal! Having said that, preparing and hosting a good event may require a significant amount of time and work, and many things can go wrong along the way. Therefore, a fully integrated event management platform in the form of a single-point solution for managing the entire event is required.
It is imperative to know how a digital solution can help you make your business plans successful. To help you realize the worth of an event and venue booking software we've compiled a list of its top features and attributes that will ignite your business plans to be successful and take it to the new superior heights.
Reduce Costs of Event Planning Process
When it comes to managing your venues and events, staying on budget is critical for all managers. While reviewing all expenses to understand where there were leverage points and savings opportunities is an important step, event management software can help control costs even further.
Having a comprehensive event management software platform that can handle a wide range of events is critical to the success of any business. Simplifying business processes by utilizing a single, integrated platform has huge benefits for companies of all sizes. With one licensing, one log-in, and one support team, you have the ability, convenience, and cost-effectiveness to plan, host, and manage your event from beginning to end.
You can keep track of how much money you spend on each event by using event management software. You may also look at previous similar events to see how much money was spent on them. As a result, you will be able to identify areas where you may save money on future events. Sales and revenue reports in event management solutions can help you determine the overall success of your event, how much revenue you have generated, and much more in just a single click.
Manage Bookings and Venues in Minutes
Administrative responsibilities associated with event planning can be time-consuming. Sending out invitations, manually taking bookings and payments, dealing with cancellations and refunds, and handling check-ins during the event are all tasks that can easily be done on a full-time basis.
This is where an event automation system comes in handy.
You can use an automated management system to send emails, track open rates and registrations, collect payments, issue reminders, process cancellations, and refunds, reschedule events, make performance notes, and much more.
All of this is managed simply and effortlessly from a single central platform, which takes only minutes to manage each day. Because the majority of administration chores are totally automated, you don't have to overload your marketing team or hire additional people to deal with the admin, and you can focus on putting on a spectacular event.
For example, to manage the lifespan of all your venue events, you can have a built-in and powerful event and venue booking calendar that you can easily access in your event management software.
Have Smooth and Effective Collaboration
With the solution, everyone gets to work on the same platform. It makes it easier for all employees, taking part in the planning of an event to collaborate seamlessly. Effective communication is a key aspect that specifies whether an event will be successful or not.
When you operate in a project-based setting with several team members and tight deadlines, you understand how important it is that everyone completes their assignments on time to keep things on track. The software provides you with a pack of tools that you and your team members can share. To-do lists can be easily created and assigned, and completion dates can be tracked. Moreover, you can find the option of checklists useful for making lists of objects. Budgets should be shared to ensure that everyone is on the same page. Calendars that you may share help you keep track of appointments and meetings. Also, you can effortlessly share files, documents, and images.
The minor notes, comments, and ideas that are important to the success of a project are often buried in your email inbox, voice mail, or under a stack of papers. With the message and notes capabilities in the event management solution, you and your team members have a single place to collaborate. Also, the clients and team members can submit feedback through a questionnaire feature included in the software.
Generate Reports in Single-Click
While organizing and managing an event, there is a long list of things that you have to do such as tracking, billing, building timelines, and budgets managing files and notes, storing client details, and generating reports and contracts. These are at the core of managing events, and they're also at the core of our event management software.
Stay on top of event bookings and appointments with the intuitive event management portals that makes you completely enabled to generate your quarterly or annual reports in just a single click.
When it comes to making crucial business decisions and laying out a course for the future, the use of analytics and reporting cannot be neglected. Using the software, you can integrate an organization's current system to get digitally enhanced analytics and reporting.
Additionally, pre-built reports tailored to the specific needs of any kind of business are also available in the solution. Or you can ask the software consultants for customization, including the addition of any new reports requested by the enterprise and revisions to the pre-built ones.
Manage Your Financials Seamlessly
Event booking software offers a more skilled process. The automation that your software package brings to the table controls all of the time-consuming rote processes of the event. Your team gets to regulate all of the problems. One of the biggest problems venue managers face is to evaluate the financials of the events. Venue management ensures the smooth integration of event financials so that you can have a quick break-up of your events' costs and budgets.
With the Event Budget & Finance Module, you can arrange your event income and expenditures and track your real spending throughout the event planning process.
Deposit schedules and financials are incorporated into the event management system to reduce the amount of time spent processing financial data. This allows for centralized access to all financial information.
The event financial module allows you to keep track of all financial payments and their associated details. Usually, it comes with an input form that users can utilize to provide numerals. Further, you can also get a summary of all payment information, deposit schedules, and other financial payments for a quick overview of your financial standings.
Take Charge of Your Client's Contacts
Your customer database is one of the most valuable resources available to your business. With the help of event management software, you can keep track of your customers and use their information effectively to grow your business.
Throughout the software, you will have easy access to all of your contacts. Search for contacts for a single venue or across many venues in a matter of seconds. All of your client's information, including their event details and all of the events they've scheduled with you, will be available to you.
Get more out of your client data by utilizing reporting tools – generate reports based on location, account number, and other criteria. Identify your VIP customers who have spent the most money or made the most reservations at your facility during a specified time period. This information can be used in your email, social media, and direct mail marketing to target these demographics and urge them to make additional reservations at your location.
Document Management Solution
When it comes to event management, there are many different documents that must all be kept organized. The document management system proves to be a tremendous asset due to its customized capabilities and speedier operation.
A document management module in venue management software is the best entity you can have to manage and control your events. With external sharing features, you can share your documents with your external teams and clients.
Among the features of this software, you can usually find a document management repository, which can be used to organize event-related materials into categorized folders for easier navigation and access. You can share the data with others outside of the program, and you can customize the layout, folder structure, and list storage options.
With the Content Library, you can store all of your files in a single shared repository, making it easier for your internal team and supporting agencies to collaborate on file sharing and authoring projects.
This powerful and versatile content storage and sharing capability can be available for brochures, documents, presentations, and other materials stored in the Content Library.  You can preview your PowerPoint presentations and other documents, edit them anytime, and generate a watermarked pdf (or in more formats) to distribute to event attendees after finalizing the documents.
Automate Your Venues with VenueArc to Turn it into a Great Success 
Automating the event and venue management is a proven and persuasive way of boosting and improving your management efforts and is a vital part of your overall venue management strategy.
VenueArc can provide you with professional and creative event and venue management software that will save you time and money and ensure your event is a true success. VenueArc believes that online event management is a powerful tool when utilized to its full advantage.
We have the best-fitted skills and experience to deliver you the perfect event management portals and our software platform assures everything drives smoothly from initial buildup through to final follow-up.
For more information on online event and venue management solution and its incredible features, check out our features pages.
You can book a free demo now by clicking on the request a demo and our expert consultant will drive you through the best features of our event and venue management solution.